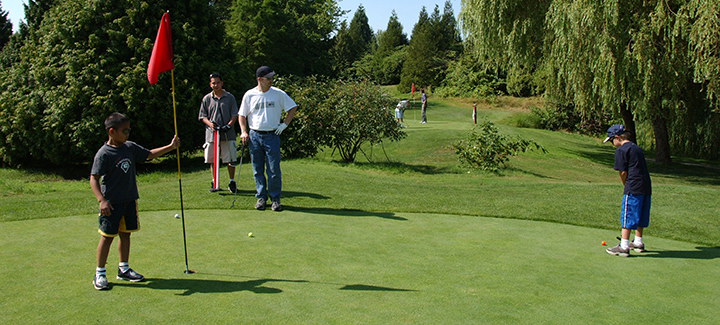 Rupert Park Pitch & Putt
Rupert Park Pitch & Putt is a par-three course in Vancouver's east side. It has impressive mountain views and imaginative use of trees and water.
Elevated greens and a series of ponds that bring water into play on 4 holes make Rupert Park Pitch & Putt a challenging and enjoyable course.
With holes between 50 and 120 yards, this course is ideal for new golfers looking for a challenge, or regular golfers wanting to hone their short-game. This course provides an excellent opportunity to enjoy a quick game of golf that doesn't require advanced tee time bookings.
Rupert Park Pitch & Putt has recently been named the home of the First Tee of Greater Vancouver, and hosts many activities including daycamps, mini tournaments, and corporate functions.

Tee times are first-come, first-served.
Contact us
3402 Charles Street
Free parking available

604-257-8364
Hours of operation
Daily
10am to 5pm - weather dependent and subject to change
Rental cut-off is 2.5 hours before close (subject to change)
Course overview
Course length: 1,235 yards
Par: 54
Green fees
Prices include tax.
18 Holes Mon - Sun
20 round punch cards†
Monthly pass**
Adult
(19-64 years)
$15.12
$226.80
$90.46
Senior
(65+)
$10.61
$158.76
$63.32
Youth
(18 years and under)
$10.61
$158.76
$63.32
Punch cards and monthly passes can also be used at Stanley Park and Queen Elizabeth Park pitch and putts.
** Last day of sale for monthly passes is October 31. You can buy monthly passes for consecutive months.
† Punch cards are non-refundable, non-transferable, and valid for 1 year.
Rentals
Limited rentals due to COVID-19. Club availability is not guaranteed.
Rentals close two hours before close.
Minimum two clubs per person. You need at least a putter and an iron.
| Item | Cost |
| --- | --- |
| Putter | $2.36 |
| Wedge or iron | $2.36 |
| Golf ball | $2.36 |
| Tee | $1.01 |
Clubs
We sell left and right clubs.
Prices include tax.
| Item | Cost |
| --- | --- |
| Putter | $39.20 |
| Pitching wedge | $39.20 |