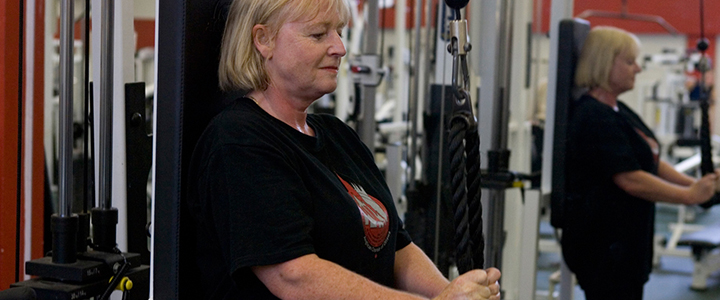 Happy Hearts
Happy Hearts programs are for people with or at risk of heart disease.
Both the Happy Heart Plus and Happy Hearts Maintenance programs include supervised exercise classes, educational seminars, and support from health professionals. They are available throughout the year at participating community centres.
Who is Happy Hearts for?
People living with heart disease:
Heart attack
Angina
Angioplasty
Open heart surgery
People at risk of heart disease:
Obesity
Hypertension
Smoking
Diabetes
High cholesterol
Sedentary lifestyle
Strong family history of premature coronary artery disease
About the Happy Hearts programs
The Vancouver General Hospital (VGH) Centre for Cardiovascular Health created Happy Hearts as community-based programs for people who have or are at risk of heart disease. VGH runs the program in partnership with the Saint Paul's Hospital Healthy Heart program and the Vancouver Park Board.
Free workshops
Curious? Attend one of our weekly education workshops, "Education for Life: Learning Healthy Living for a Healthy Life." Admission is free, but registration is required. Call Linda Sung, Happy Hearts Coordinator, at 604-875-4111, extension 68086.
More information:
Happy Hearts locations
The Champlain Heights Community Centre is located at 3350 Maquinna Drive, Vancouver. Amenities include a youth centre, preschool childcare, indoor cycling, a dance studio, squash and racquetball courts, and a fitness centre with sauna. Outside, there is a tennis court and playground.
Kensington Community Centre amenities include a dance studio, pottery studio, indoor pool, fitness centre, gym, playground, and seniors centre. The centre is located at 5175 Dumfries St, Vancouver, BC. 604-718-6200.
The Dunbar Community Centre is located at 4747 Dunbar St, Vancouver, BC. 604-222-6060. Amenities include a fitness centre, dance studio, pottery programs for children, indoor cycling, tennis courts, outdoor sport courts, gymnasium, squash courts, darkroom and playground.

Currently, Champlain Heights Community Centre only offers the Happy Hearts Maintenance program.
Exercise programs you can access with Happy Hearts
Find information about our 25 fitness centres; their services, amenities, equipment, costs, location, and more.
We have nine indoor and five outdoor seasonal pools. View their locations, features, and amenities.
We have eight indoor ice rinks. View their locations, features, and amenities.