Mr. Frank Sanie's gift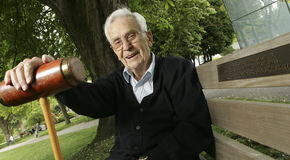 Mr. Frank Sanie, who was a long-time resident of Vancouver, dedicated a park bench to celebrate and promote the sport of croquet.
More than 40 years ago, Mr. Sanie was responsible for bringing this social sport to the forefront. He also volunteered at schools and played an active role with the Community Centre Associations.
"It's only through giving back and volunteering that one truly enjoys life. If you help people stay active, you make them happy and healthy," he said.
If you are interested in learning more, please contact the Fundraising and Development Office.