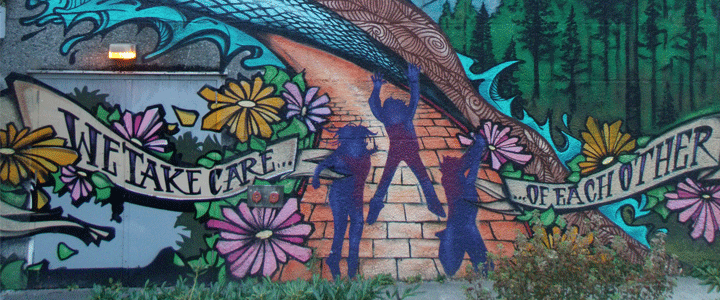 Resilient Neighbourhoods Pilot Program
Building resilience and capacity to empower residents, businesses, and neighbourhood services to respond to the unique challenges faced by their communities.
As part of the Resilient Vancouver Strategy process, we are partnering with four neighbourhood organizations to co-create tools and resources to build resilience and capacity at the neighbourhood level.
These neighbourhoods and organizations represent a diverse cross-section of Vancouver which is key in developing a scalable framework for all of Vancouver's neighbourhoods. They include:
Grandview-Woodland (Britannia Community Services Centre)
Renfrew-Collingwood (Collingwood Neighbourhood House)
Downtown Eastside (312 Main Community Co-op)
Dunbar (Dunbar Community Centre Association)
Over the next year, we will look at ways to build resilience within our communities and opportunities to share these examples with other neighbourhoods in Vancouver.
Across the city, people and organizations are fighting to stay in the places they love, and are committed to bolstering their communities to address future challenges.
Opportunities
As part of developing a Resilient Vancouver Strategy, we can empower neighbourhoods to identify and build on the services and networks that allow them to thrive day-to-day, and take care of each other during disasters. The program will allow us to:
Support neighbourhoods to examine and reduce chronic issues
Support and amplify current resilience-building initiatives
Build neighbourhood capacity to think about, prepare for, respond to, and recover from crises
Participants, City staff, and external partners came together for the first workshop of the program.
Locate the closest hubs where you can gather after an earthquake or other natural disaster to share information and resources.
We're leveraging our partnerships to advance a seismic risk reduction strategy specifically targeting buildings.