Southeast False Creek Paddling Centre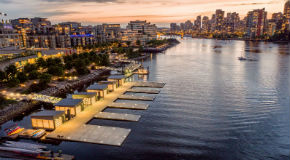 Photograph by Concord Pacific
The Southeast False Creek Paddling Centre offers:
Six small storage buildings for non-motorized boats and paddling equipment
Six floating docks
Two entry and exit ramps to improve accessibility
It is also expandable. More buildings and docks can be added as needed in the future.
About the design
Floating lanterns were the inspiration for the centre's design, which the architect captured by using semi-translucent panels and simple cube structures.
The building is gently lit at night to achieve the lantern effect. The centre is fully accessible and the LED lighting is about as efficient as it gets.
Who uses the paddling centre
The Canadian International Dragon Boat Festival Society and British Columbia Mobility Opportunities Society will be operating out of the $3.2-million centre, just northeast of Creekside Community Recreation Centre.
The community centre also contracts Dragon Zone Paddling Club to offer various programs such as summer camps for children and intro to dragon boating.
Before the paddling centre opened in April 2016, paddlers used storage facilities at Creekside Community Recreation Centre, as well temporary wood docks and metal storage containers near the City-owned former ferry dock in the south-east corner of False Creek.
Why the paddling centre was built
Creating a new non-motorized boating facility for False Creek has been a long-term planning objective by the Park Board and City of Vancouver.
The Vancouver Park Board is focused on providing quality recreation programs and services across a range of facilities as outlined in its Strategic Plan.