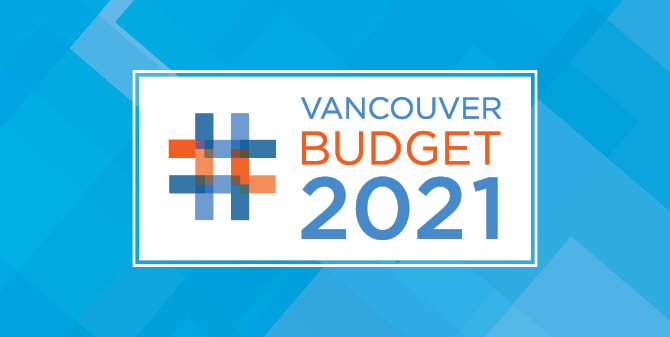 2021 Budget
To build our budget each year, we must balance the need to provide services, facilities, and infrastructure that meet the needs of our residents and businesses with the desire to keep property tax and utility rate increases at a manageable level.
Get to know the 2021 budget
A short summary of how the City is organized and operates, services we deliver, our key challenges and opportunities, and where we will focus our resources in 2021.
Read the budget highlights if you are looking for a high-level overview.
If you're into the details, more information available is in the sections below.
Property tax increase
The 5% tax increase in the 2021 Budget results in the following average property tax increase amounts (based on median property values in each category) after adjusting for the impact of the Council-directed tax shift of .5% property tax share from non-residential to residential classes:
$146 for a single-family home (assessed at $1.6 million)
$64 for a condo or strata unit (assessed at $688,000)
$166 for a business property (assessed at $1 million)
$104 for a residential property overall (assessed at $1.1 million)
The actual tax bill for each property owner will be different than the above average amounts, and will depend on the assessed value of the property, as well as the relative assessed value of that property to others in the same class.
These estimates also reflect our portion of taxes only – a property owner's tax bill also includes utility fees, Provincial school taxes, and taxes levied by other taxing authorities including Translink, Metro Vancouver, BC Assessment, and the Municipal Finance Authority.