Fire protection system pre-inspection certification
Some zoning districts within the City of Vancouver require fire safety and protection system equipment be inspected yearly by a certified fire protection technician.
A yearly inspection is highly recommended for all other areas of the city. Regular inspections ensure that your system will be ready to protect you in the event of an emergency.
Vancouver Fire and Rescue Services (VFRS) inspects your property to ensure that the equipment you have meets the standards set by the Applied Science Technicians and Technologists of BC (ASTTBC). If the equipment is not properly certified, VFRS will issue a violation notice.
Vancouver Fire and Rescue Services does not inspect, maintain, or certify the equipment itself. An ASTTBC-certified company must do that.
To find a ASTTBC-certified service provider, search under "Fire" in the phone book or your favourite search engine.
ASTTBC certification by component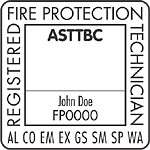 When you book an inspection, tell the company about all of the equipment components in your fire safety and protection system. Certified fire protection technicians carry licenses to inspect only specific components.
During an inspection, the technician will tag your equipment with an authorized stamp that indicates the certification expertise held by the technician. The inspection is not valid unless the stamp displays the appropriate designation for the inspected equipment.
The designations at the bottom of the label represent different equipment category specializations.
| Specialized designation | Code |
| --- | --- |
| Commercial kitchen exhaust cleaning | CO |
| Emergency power and lighting systems (unit emergency lighting) | EM |
| Fire alarm systems | AL |
| Fire extinguishers, both fixed systems and portable | EX |
| Generator systems | GS |
| Smoke control systems | SM |
| Special fire suppression systems | SP |
| Sprinklers, standpipes, and other water-based fire protection systems | WA |
Fire Protection Certification Board Members
The following list of board members have been working together to build fire safe communities.