Pets
Due to the Raymur Pump Station Upgrades, Raymur Avenue will be closed to vehicle traffic at Malkin Avenue. Access to Animal Services will be retained via Raymur Avenue.
Street parking is limited on Raymur Avenue and Malkin Avenue. We recommend parking on neighbouring streets.
Pet ownership comes with many responsibilities.
Whether you are a pet owner, looking to adopt an animal, or curious about regulations, the City provides assistance with:
Dog licences
Animal care
Pet adoption and fostering
Local animal shelters
Our goal is to protect and safeguard the health of the community, while promoting responsible pet ownership.
Here you will find information about being a good "pet parent", how you can help other animals in the community, and who to talk to if you have questions or concerns.
Find an off-leash dog park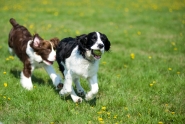 Check out Vancouver's off-leash dog parks and areas.
Off-leash dog areas
Contact Animal Services
1280 Raymur Ave
Vancouver, BC V6A 3L8
Street parking is limited on Raymur and Malkin. Park on neighbouring streets.
Fax: 604-871-6862
animal.services@vancouver.ca