Heart of the City Festivals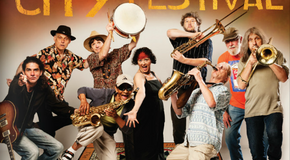 Celebrating the history, culture, and people of the DTES
Since 2008, the Great Beginnings Program has supported the Heart of the City Festival in celebrating the history, culture and people of the DTES.
Local organizations partnering for success
The Festival works in partnership with local cultural organizations:
Chinese Cultural Centre
Chinatown Merchants' Association
Japanese Language School and Hall
Vancouver Aboriginal Centre
Association of United Ukrainian Canadians
Building community connections
Our founding communities include the Chinese, Japanese, Europen, and First Nations. The festival hosts events that honour these founding communities, such as:
Musical performances
Visual arts productions and forums
Historical and cultural walks and talks
Raising the creative capacity of local youth
In 2009, the Heart of the City Festival partnered with Fearless TV and ACCESS TV to mentor youth from the DTES in all aspects of television production, including three video releases that profiled the festival for public broadcast on SHAW community television.
Planning for a successful future
The Great Beginnings Program continues to support the Festival by supporting events, capacity-building, and succession planning to ensure that the community can reap the benefits of the festival for years to come.