Print

Building a city we love
It takes everyone's help to build a great city that we love. Thank you to our volunteers and residents for the great work you do.
Watch these videos about what we do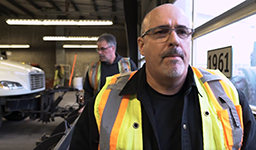 Meet Nic and Luis. Their job is to make sure our snow equipment is ready for winter. Get an up close look at the brine trucks, snow plows, and salters before they hit the streets.

Dive into the story of Vancouver's garbage cans. Vancouver has over 3,000 waste bins helping keep city streets clean.

Neil and Preet explain where our drinking water comes from, and how the City keeps the water quality high when it arrives in your glass.

Dan walks you through a night in the life of a City street cleaner. Learn how he and his crew help to keep our city clean and spectacular.

Sheana and Ivan show you the Nanaimo Street Upgrades, upgrading the essential infrastructure you use every day.
Trading cards
What kind of vehicles help build our city? See our trading cards with eight great members of our fleet.
You can get the cards from staff working with these vehicles around the city!
Trading cards
By City of Vancouver
Get involved
Take our quiz to see if you're a trivia champ.
Volunteering is a rewarding way to gain experience, meet new people, and learn new skills.
Get our newsletter