Official celebrations and observances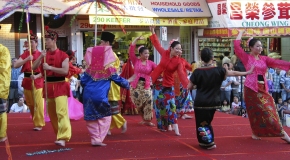 City Council and staff recognize and value the contributions of the diverse communities that make Vancouver one of the most livable cities in the world. We also observe internationally recognized days and significant events in our history.
We recognize these official celebrations and observances through public ceremonies involving the mayor, councillors, and members of the community, or through acknowledgement by the City with a proclamation or recognition during a Council meeting. Annual events could also include cultural celebrations with speakers, entertainment, and when appropriate, a reception.
The official celebrations and observances listed below have been approved by City Council.
January-February: Lunar New Year
Lunar New Year is a traditional holiday celebrated by the Chinese, Vietnamese, and Korean communities.
The holiday runs from the last day of the last month of the Chinese calendar, to the Lantern Festival on the 15th day of the first month, making it the longest holiday in the Chinese calendar. Windows and doors of homes and offices are often decorated with red color paper-cuts and couplets with popular themes of "good fortune" or "happiness," "wealth," and "longevity."
Other activities include lighting firecrackers and giving money in red paper envelopes.
February: Black History Month
Black History Month is an opportunity to share the history, contributions, and culture of Black Canadians.
Here in British Columbia, there is a significant Black history going back to Canada's colonial origins. In 1858, nearly 800 free Black people left the oppressive racial conditions of San Francisco for a new life on Vancouver Island.
Around 1900, the Black community from Vancouver Island moved to the Lower Mainland and settled in Vancouver's Strathcona neighbourhood, also known as Hogan's Alley. Hogan's Alley ran between Union and Prior streets from the alley east of Main Street to Jackson Street.
Though still faced with intense discrimination, these pioneers enriched the political, religious, and economic life of the colony. Many from that initial group have contributed notably to BC life:
Mifflin Gibbs became a prominent politician.
Charles and Nancy Alexander initiated the Shady Creek Methodist Church.
John Deas established a salmon cannery on land in Delta that is now Deas Island.
Barbara Howard, aged 17, was the first black female athlete to represent Canada in international competition at the British Empire Games in Australia. She was the first visible minority hired by the Vancouver School Board and taught physical education at Strathcona School.
Jimi Hendrix lived with his grandmother Nora Hendrix in Vancouver after being discharged from the US army. In 1968, Jimi Hendrix played at the Pacific Coliseum.
In late 2011, Council passed a motion designating Black History Month as a civic special event with funding.
March 8: International Women's Day
Every year on March 8, thousands of events are held throughout the world to inspire women and celebrate achievements. A global web of rich and diverse local activity connects women from all around the world, ranging from political rallies, business conferences, government activities, and networking events through to local women's craft markets, theatric performances, fashion parades and more.
The City celebrates this day by highlighting issues of importance to local women, and by highlighting the important roles women in our communities play.
March 21: International Day for the Elimination of Racial Discrimination
In 1966, the United Nations declared March 21 "International Day for the Elimination of Racial Discrimination."
This day marks an event that took place in Sharpeville, South Africa, on March 21, 1960, when 69 demonstrators were killed by police during a protest against apartheid.
The International Day for the Elimination of Racial Discrimination is observed in cities around the world, including Vancouver.
June: Italian Heritage Month
Italian Heritage Month is an opportunity to honour the history, cultural, and contributions of Italian-Canadians to the City of Vancouver.
The Italian Cultural Centre (Il Centro) together with its cultural partners presents a month long festival that celebrates, promotes, and shares Italian culture, language, and heritage. The festival includes a series of performances, exhibitions, events, and traditional cultural activities including Italian Day on the Drive.
In addition to the celebrations, Italian Heritage Month is also a time to remember the hardships faced by Italian-Canadians who struggled to immigrate to Vancouver, build their lives and businesses, and contribute to our city. Among these hardships was the internment of 44 Italians who lived in Vancouver and were taken from their families and sent to camps in the early 1940s.
In 2018, Council passed a motion designating Italian Heritage Month to be recognized in the list of official celebrations and observances.
June 20: World Refugee Day
World Refugee Day is celebrated annually on June 20 to honour the courage, strength and determination of refugees worldwide. It is a day to recognize the contributions of refugees in their communities. Events related to World Refugee Day encourage people to think about the lives of refugees and the human right to a secure place to live.
World Refugee Day is a global observance and not a public holiday.
June 21: National Indigenous Peoples Day
National Indigenous Peoples Day is celebrated annually across Canada on June 21. The day also coincides with the summer solstice.
The Governor General of Canada proclaimed June 21 as National Indigenous Peoples Day in 1996 as a celebratory occasion where Indigenous people could share their rich, diverse cultures, stories, songs, traditional games, dances, and spirit with each other, and all Canadians.
July/August: Vancouver Pride Week
Each year in late July/early August, members of the lesbian, gay, bisexual, transgender, two-spirited, and queer communities (LGBTQ2+) – and their friends and allies – join together to celebrate their lives, families, and progress in the areas of equality and tolerance.
Each year, the Mayor proclaims this week "Pride Week" during an event for the community at City Hall. Council also has a significant presence in the annual Pride parade, an event that attracts over 600,000 people.
August: Eid-al-Adha
Eid-al-Adha is a Muslim celebration with links to Islamic history with the history of Islam, Judaism, and Christianity through their common Abrahamic heritage. The festival marks the completion of the Hajj, which is the annual pilgrimage to Mecca.
Over 1.4 billion Muslims around the world, including 7 million in North America and 100,000 in British Columbia celebrate the festival of Eid-al-Adha.
November: Diwali, Festival of Lights
Vancouver is home to the second-largest South Asian community in Canada, and Diwali, known as the Festival of Lights, is a unifying event in many communities across South Asia.
For all, it is a time of renewed spirit, celebrated with family and the community through joyous music, dance, crafts, stories, and delectable sweets.
To express their happiness during Diwali, people:
Light clay lamps called diyas, and set off firecrackers
Display colourful floor mosaics or rangoli
Decorate their homes, and partake in sumptuous feasts
November 11: Remembrance Day Service
The Remembrance Day Service at Victory Square is the oldest continuing annual ceremony in Vancouver.
The ceremony began in 1924 and reflects respect and remembrance of sacrifices in the service of our country – past and present.
The service is organized by the Vancouver Remembrance Day Committee, a civic volunteer group with a mandate to organize and conduct the November 11 ceremony on behalf of our citizens. Vancouver is the only city in Canada with a civic volunteer committee supported by the City. The committee has developed a proud tradition of consultation and input from veterans and related groups, numerous service and civic organizations, including city departments, the military and RCMP.
The ceremony attracts Vancouver citizens to Victory Square, rain or shine, and also attracts hundreds of thousands of television viewers across the country. This solemn ceremony includes the "Last Post", the "Lament", the fly-past, the change of the guard, the wreath-laying, the parade of veterans, military units, cadets, police, brass bands, and pipes and drums, and is befitting for the many tearful private moments of remembrance.
Every year over 15,000 participants and citizens attend the ceremony.
December: International Day of Persons with Disabilities
Each year on December 3, Vancouver joins cities around the world to mark International Day of Persons with Disabilities.
International Day of Persons with Disabilities promotes an understanding of disability issues, increases awareness of the rights of persons with disabilities, and supports their inclusion in every aspect of life.
Since its launch by the United Nations in 1992, this celebration continues to promote the positive impact that integrating people with disabilities has in all spheres of society –including political, social, economic, and cultural life.
In 2006, Council approved International Day of Persons with Disabilities as an official annual event in the City of Vancouver.