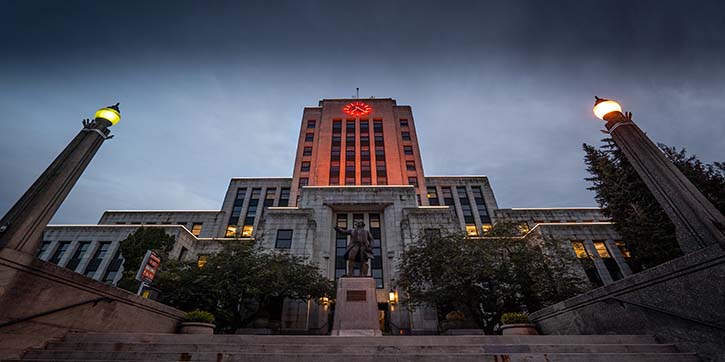 Light up City Hall and Burrard Street Bridge
City Hall and Burrard Street Bridge have an LED light display that's used to recognize important events and cultural occasions.

We welcome your request to illuminate City Hall and Burrard Street Bridge if it's for one day only and your event or awareness campaign has a direct connection to Vancouver residents. We accept requests that support:
Events of national and international significance
Local festivals or community events
Local, national, or international awareness issues that build community or are related to community health issues
We reserve the right to deny requests that contravene our policies or by-laws or are mainly personal, political, religious, or commercial in nature.
Submit your form at least six weeks and no more than 6 months before your requested date.
Requests are processed in the order in which they are received. You will be notified approximately two weeks prior to the requested date if your request is approved.