National Indigenous Peoples Day
What you need to know
June is National Indigenous History Month, and June 21 is National Indigenous Peoples Day. Learn about:
Signed proclamation (537 KB)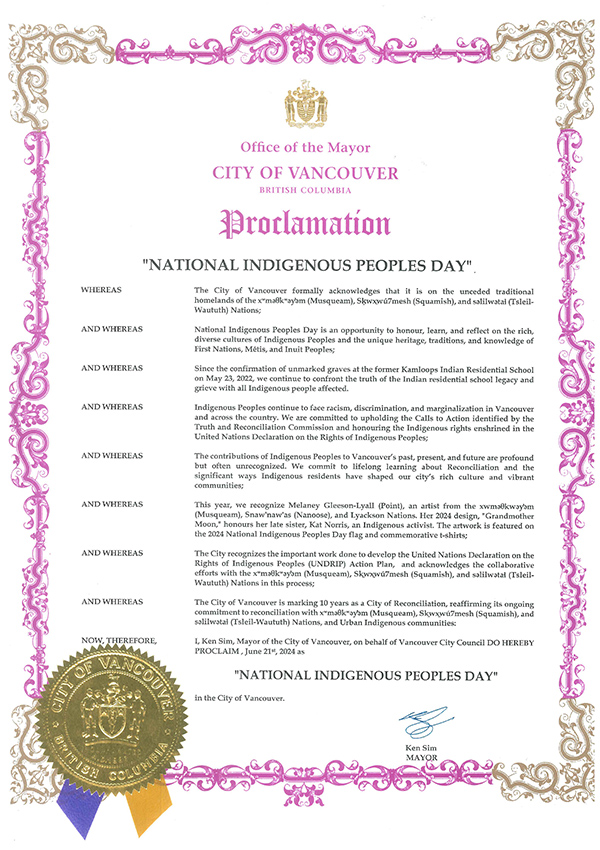 The Governor General of Canada proclaimed June 21 as National Indigenous Peoples Day in 1996, an occasion for Canadians to come together, reflect on and celebrate the unique heritage, traditions, and knowledge of First Nations, Inuit, and Métis Peoples.
We are deeply grateful for the xʷməθkʷəy̓əm (Musqueam), Sḵwx̱wú7mesh (Squamish), and səlilwətaɬ (Tsleil-Waututh) Nations who have continued to inhabit and steward these lands every day since time immemorial.
We are also grateful for the contributions of Urban Indigenous community members, past, present and future, in shaping our city.

Artwork created by Sam McKay
The artwork for National Indigenous Peoples Day 2022 was created by Sam McKay, a Nisga'a artist and long-time DTES resident.
Artist bio
Sam was born May 17, 1948, in the village of Laxgalta'ap formally known as Greenville Nass River British Columbia. He was exposed to Northwest Coast Art at an early age by his grandfather Sam McKay on his father Elbert McKay's side of the family. He was also informed that he had a couple of uncles from the past who were great carvers; Simoogit Ni'ismuut on his mother Phyllis McKay's side of the family, and Patterson McKay who is his father's brother. Northwest coast art has always been his passion and he finds spiritual solace as well as its healing energy.
Sam is continually finding ways to hone his artistic ability. In 2013, he completed a two-year course at the Freda Diesing Northwest Coast School of Art in Terrace, British Columbia. His determination and meticulous ability to carve masks, bowls, paddles and wooden spoons lead him to another ambition; his dream is to develop his own style of art and open his own art studio. In July 2017, he completed an eight-month course in Northwest Coast Jewellery Arts at Native Education College in Vancouver, British Columbia.
He feels that his responsibility is to carry on the legacy that was freely given to him. He also believes that learning is a gift from the Creator, and that it is not complete until it is passed on. That is the teaching from his grandfather and his goal.
Join in-person or online for National Indigenous Peoples Day event: Tuesday, June 21, noon to 3pm
Celebrate National Indigenous Peoples Day and learn about Indigenous culture and the Downtown Eastside.
The Carnegie Community Centre, in partnership with the UBC Learning Exchange and the City, is hosting an in-person event with live streaming on Tuesday, June 21 from 12 to 3 p.m.
There will be a variety of giveaways and performances – including tea from Hives for Humanity, crafts created by Cultural Sharing Elders, and live performances - including the Carnegie's own lexwst'i:lem drum group, John Sam and the Big Drum, Larissa Healy, and much more.
Learn more and download an online Indigenous learning kit
Flags to honour Host Nations and Indigenous Peoples
For the month of June we're flying 16 Indigenous flags on City Hall's flag island at 12th Ave and Cambie St. Flags from the xʷməθkʷəy̓əm (Musqueam) Indian Band, Sḵwx̱wú7mesh (Squamish) Nation, səlilwətaɬ (Tsleil-Waututh) Nation will fly next to the National Indigenous Peoples Day flag designed by Sam McKay, in recognition that we are located on these Nations' traditional, ancestral and unceded territories.
Additional flags that will fly are:
National Indigenous Peoples Day Flag 2021 – (original design by Skundaal, Haida artist and master carver, for National Indigenous Peoples Day 2021)
Metis Nation Flag
Every Child Matters Flag
Indian Residential School Survivors Society Flag
No More Stolen Sisters Flag Missing and Murdered Indigenous Women and Girls Flag (original design by Skundaal)
Missing and Murdered Indigenous Women and Girls Flag
Inclusive Pride Flag/Progress Flag
Greater Vancouver Native Cultural Society Flag
xʷməθkʷəy̓əm Two-Spirit Flag
Sḵwx̱wú7mesh Nation Pride Flag
səlilwətaɬ Nation Rainbow Flag
Metro Vancouver Aboriginal Executive Council Flag
Collective mourning for Indigenous children who never returned home
It has been a year of reckoning with the Indian residential school legacy, with confirmations of hundreds of unmarked graves in communities across the country. We send our deepest sympathies to the Tk'emlúps te Secwépemc First Nation and all Indigenous people who continue to experience the devastating impacts of Canada's Indian residential school system.
Canada's Indian residential school system and other ongoing colonial structures and policies continue to cause deep-rooted grief, trauma and loss. As a City of Reconciliation, we remain committed to upholding the Calls to Action identified by the Truth and Reconciliation Commission.
For information about our work in this area, review our most recent Reconciliation report (528 KB)
Resources for Indigenous Peoples
Saa'ust Centre, brought to life by the Urban Indigenous Peoples' Advisory Committee's community, is an oasis for families and survivors affected by the national inquiry into Missing and Murdered Indigenous Women and Girls (MMIWG)
First Nations Health Authority provides culturally safe and trauma-informed cultural, emotional, and mental health services to Indigenous people in BC.
Kuu-Us Crisis Line Society provides crisis services for Indigenous people across BC. Adults and Elders can call 250-723-4050 for support; youth can call 250-723-2040. A toll-free number is available at 1-800-588-8717.
At Vancouver Public Library's Connection to Kith and Kin , experts help Indigenous participants search online records for family documents. Searching can be an emotional experience. The Indian Residential School Survivors Society has provided a Resolution Health Support Worker to join the participants during their journey.
How you can listen, learn, act
All settlers on this land have a responsibility to understand and address the ongoing impacts of colonization. We encourage residents to learn more about First Nations, Inuit and Métis communities with the following resources: