Megaphone Magazine: Community outreach and capacity building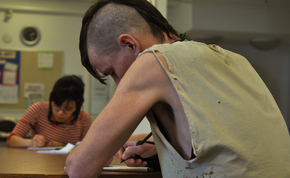 With support from the Great Beginnings Program, Megaphone runs a series of writing workshops in the Downtown Eastside and downtownVancouver for marginalized writers. These workshops are run in treatment centres, social housing buildings, and community centres.
Writing opportunities for a marginalized population
Writers
Helps to provide marginalized writers with a therapeutic opportunity to express themselves and have these writing published in Megaphone.
Residents
Residents from across the city gain a better understanding of the issues affecting marginalized residents and help break down stereotypes.