Print
Public Art Community Grants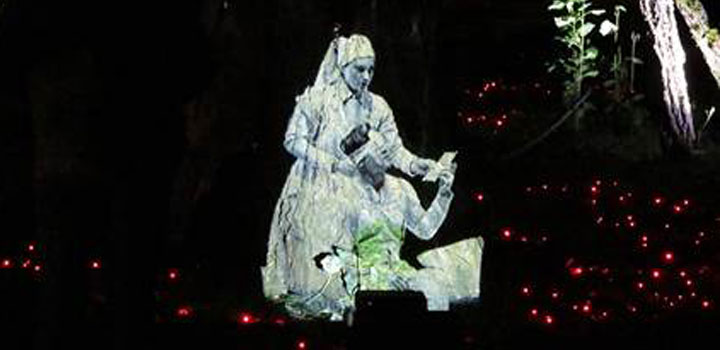 Arbres de Mémoire (Trees of Memory) site installation, 2017. Photo: Laura Lee Coles
This is an opportunity for artists, arts organizations, communities, and local non-profit societies to develop collaborative partnerships and strengthen artistic and community outcomes for public art projects.
The City of Vancouver is providing grants up to $20,000 to support small-scale public art projects produced by Vancouver-based organizations working with practicing artists and communities.
We encourage projects involving emerging artists and diverse cultures to apply. Public art projects should contribute to the discourse, practice or art form. All projects must be a one-time, single creative project or time-limited series.
Read the application information guide

(249 KB) for details.
About the grant
As part of Vancouver's Public Art Boost

(200 KB), funding for one-time community public art projects was significantly expanded. It broadened the eligibility requirement and increased the maximum grant available from $10,000 to $20,000 for 2017 and 2018.
In 2017, we awarded grant funds to 11 organizations. Examples of past projects include:
Key dates
| | |
| --- | --- |
| Applications available | Late September 2017 |
| Applications due | November 8, 2017 |
Eligibility
This program is open to Vancouver-based non-profit organizations, community service co-ops, registered charities, and First Nations Band Councils. Both arts-based and non-arts-based organizations are eligible to apply.
Non-arts-based organizations:
Must partner with arts-based organization or professional artists.
Arts-based organizations:
Are strongly encouraged to partner with neighbourhood-based groups or artists whose practice incorporates community.
Currently receiving other City arts and cultural grant funding may still be eligible to apply.

There are additional organizational and project eligibility criteria for this grant. Carefully read the application information guide

(249 KB) for the full requirements.
How to apply
1. Read the application information guide.
The guide includes important information about the Public Art Community Grants program.
2. Contact Cultural Services.
After you have read the guide, contact a cultural planner to discuss eligibility and receive access to the application:
Marcia Belluce
Cultural Services, City of Vancouver
604-871-6875
marcia.belluce@vancouver.ca
3. Submit your application.
If you are eligible and meet the criteria, a cultural planner will direct you to proceed with submitting your application.
The application deadline is Wednesday, November 8, 2017.