Sew a Legacy: Olympic and Paralympic sports bag production and sustainable business plan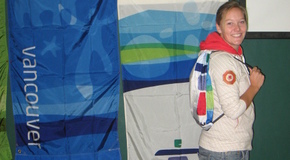 Partnering with social enterprises
In 2009, the Great Beginnings Program partnered with EMBERS, an inner-city social enterprise, to foster the business acumen, capacity- and skills-building of inner-city women through sewing projects.
Turning the old into new
The project was a great display of sustainable use of materials that were no longer needed for their intended use.
730 used Olympic roadside banners were donated to EMBERS by the Great Beginnings Program.
20 inner-city women sewers transformed the old, worn banners into sports bags, which were donated to local school children.
Approximately 1,100 sports bags were created and distributed to inner-city elementary schools.
Partnering for success
Bags were filled with useful school, healthy living, and sporting supplies. Items were generously donated by:
BC Dairy Foundation
ActNowBC
The City of Vancouver Park Board
Mills Basics
Action Schools
The City ofVancouver
HealthCanada
Legacies 2010
Promoting healthy living and active lifestyles
Instead of simply handing the sports bags to local schools, the
Vancouver Park Board's Active Communities Initiative, 2010 Legacies Now's "Sport Fit" Program and the Vancouver School Board collaborated in hosting Active Living Days in a handful of inner-city schools. Children were engaged in healthy living activities and were rewarded for their efforts with Sport Bags filled with useful school supplies and healthy living items.
Establishment of Common Thread Cooperative – a legacy project
The project led to the formation of Common Thread, a Vancouver-based non-profit cooperative that matches customers with social enterprises that make sewing products. Participating sewers receive basic skills training, access to a sewing workshop, and develop the business acumen and confidence necessary for future sewing business ventures.