Diversity and Inclusion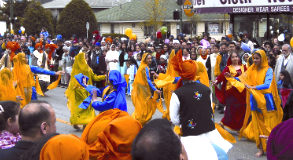 The Diversity and Inclusion Award celebrates outstanding leadership to foster inclusion across diverse communities.
2018 recipients
Shivani Mysuria
Individual youth category
Shivani Mysuria, a Microbiology major at UBC, has made it her personal mission to ensure new immigrants in her community have opportunities to experience the inclusiveness that Vancouver can offer.
She created a program at Mount Pleasant Neighbourhood House called Children's Birthday Miracles Vancouver which runs monthly birthday parties for refugee, immigrant, and homeless families. Complete with presents, games, entertainment, and food these parties ensure children and their families feel welcome and celebrated.
Shivani also established Multicultural Cooking nights at her school, where she invites chefs to demonstrate a recipe for immigrant families who then recreate it and incorporate ingredients from their own background.
In addition, Shivani initiated a program in the community called Positive Leisure for All Youth (PLAY) which matches typical students with those who are differently-abled to play sports, and do other activities together fostering understanding and forging new relationships.
Her community involvement extends to many other organizations and activities, all of which promote inclusiveness and a spirit of community which reinforce Shivani's belief in the importance of all Canadians feeling welcome and acknowledged in our society regardless of circumstances or background.
Shivani's thoughtful initiative, motivation, and dedication are hallmarks of what make her a bright young light in Vancouver.
David C. Jones
Individual category
Diversity and inclusiveness aren't just something to which David Jones pays lip service; they are at the core of everything he does as a respected artist, filmmaker, entertainer, and teacher. David is passionate about the power of arts to educate and influence ideas and opinions and believes strongly that no one should be excluded because of who they are or the challenges they face.
His tireless advocacy in the theatre community and efforts to ensure his own productions reflect the reality of our diverse city are notable. He goes to great lengths to make sure the Vancouver theatre community is considerate of the necessity to provide opportunity and access to people of all ages, abilities, sexual orientation, colour, and culture. To this end, he created a Diversity Report Card which he offers each year after diligently attending local shows and recording where there are gaps and opportunities on Vancouver stages to better reflect the world in which we live.
He is a frequent speaker on the importance of diversity and inclusion in theatre and an ardent advocate for LGBTQ representation on stage and screen through his own productions and those he has participated in for TV networks and production companies.
Learn more about David's work

or follow him on social media @iamdavidcjones.
PACE Society
Organization category
The PACE Society provide critical support for sex workers with the aim of alleviating disproportionate levels of poverty, homelessness, substance use, and health concerns associated with their circumstances.
Based in the Downtown Eastside, the non-profit organization offers low-barrier support and programming to promote safe working conditions and meet the complex needs of the community they serve. Programs are peer-driven and follow a model of harm reduction through education and support. They include one-to-one support, drop-in services, peer support groups, peer health navigation services, outreach services, and occupational health and safety.
In 2016, PACE launched the Gender Self-Identification Project which assists transgender and non-binary persons with legally changing their names and gender markers to help overcome one of the most significant barriers they face; that those identifiers don't match their government-issued identification. A common result of this is that individuals avoid seeking health care and become increasingly isolated.
The success of this initiative geared to ensure inclusivity for the whole community has made an incredibly positive impact on those helped by it. In addition, PACE has taken the extra step of opening the program to any transgender or non-binary person in Vancouver needing support, recognizing the need to go beyond their mandated support for sex workers to ensure everyone who needs this support in Vancouver has access to it.
How we honour diversity
Official celebrations and observances
We recognize the valuable contributions of Vancouver's diverse communities is through special celebrations of International Women's Day, Black History Month, Vancouver Pride, Diwali, and others.