Greenest City Leadership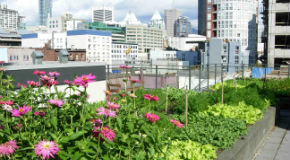 2018 recipients
Maggie Fong
Individual youth category
Windermere High School student Maggie Fong is a force to be reckoned with when it comes to advocating and educating the community about food security and sustainability, gardening, local food, and food justice. She is active in her school community and in the Renfrew-Collingwood community as an avid and dedicated volunteer at Collingwood Neighbourhood House.
Her involvement at school includes leading the student run garden program (which she was inspired to do after learning about climate change and food security in grade eight) and being a member of the organizing committee for Windermere's Climate Change Conference and Earth Day Parade. At Collingwood Neighbourhood House she is a member of the organization's Food Security Institute, and has been a student leader, organizer, and speaker for many educational events and has also played a key role in the strategic work of the BC Food Systems Network.
Maggie is a proponent of getting more youth involved in the food movement, and has brought a valuable youth perspective to several panels and gatherings around this topic. She recently played a key role in developing a book called "Renfrew-Collingwood Food Stories" with other youth which she was invited to present at the BC Food Systems Network Gathering.
George Patrick Richard Benson
Individual category
As a passionate advocate of climate change adaptation and mitigation, George Benson's work as a planner and non-profit leader in Greater Vancouver focuses on engaging unlikely allies to take on climate action.
George is involved in climate and environmental work as a speaker, researcher, writer, and advocate in roles related to the City of Vancouver, Vancouver Economic Commission, the Planning Institute of BC's Climate Action Task Force, and the Vancouver Hub of the World Economic Forum Global Shapers Community.
This past year his focus has turned to the threats and opportunities posed to the city by climate-induced population movements through a non-profit he co-founded, the Climate Migrants and Refugees Project. George and his colleagues look at ways that Vancouver and cities around the world can anticipate influxes of climate-displaced people, and plan for them in a way that further builds resilience, diversity, and prosperity.
London Drugs
Organization category
London Drugs' What's the Green Deal Program is a four-pillared approach to encouraging and fostering a more sustainable world by working with customers, staff, vendors, government, and communities to create opportunities for recycling, waste reduction, and environmentally conscious decision-making.
One of the key aspects of the project is a recycling program that provides consumers with the opportunity to reduce household waste and keep dangerous components out of landfills by returning post-consumer waste of all kinds to their local London Drugs store. Small electronics, light bulbs, product packaging, used printer ink cartridges, and batteries are among the items acceptable for drop-off. This resulted in the diversion of over one and a half million pounds of post-consumer materials in 2017 alone.
In addition to recycling, the What's the Green Deal program incorporates the sourcing and promotion of local products in stores, integrating sustainability criteria in purchasing decisions for the company, an active recycling program in the London Drugs warehouse and working alongside vendors, customers, employees, government, and the communities in which they operate to promote and reward sustainable practices and concern for the environment.
How we are making our city greener
Greenest City is a bold initiative that addresses Vancouver's environmental challenges.