Jim Pattison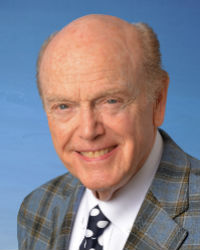 Jim Pattison was awarded the Freedom of the City award on January 23, 2014.
One of Canada's most successful entrepreneurs
Jim Pattison left the University of British Columbia to immerse himself in business, starting out as a car salesman. From there, Jim's extraordinary knack for entrepreneurship led him to build an international business empire that today includes car dealerships, media, advertising, food, entertainment, and finance.
The Jim Pattison Group, of which he is chairman, CEO and president, is headquartered in Vancouver and employs over 35,000 people in more than 400 locations worldwide. Pattison continues to be one of the most sought-after thinkers in the business world.
A generous philanthropist and true to his Vancouver upbringing
Together with his family, Pattison is a generous philanthropist, donating millions to causes that include health care, and many educational, faith-based and community organizations. He has also served on numerous boards and foundations, including as Chairman of Expo 86, a watershed moment in the growth and development of our city.
Pattison is the recipient of numerous well-deserved honours for his business achievements and philanthropy, including appointment as an Officer of the Order of Canada in 1987 and the Order of British Columbia in 1990.
Pattison remains a dedicated and loyal Vancouverite and can still be found playing his trumpet in support of numerous worthy causes benefitting the people of the city he loves.