Milton Wong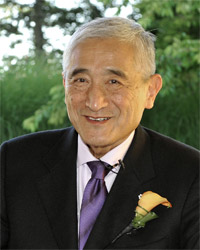 Milton Wong was awarded the Freedom of the City award on August 1, 2011.
A generous and dedicated business leader
Born and raised in Vancouver, Mr. Wong embarked on a long and successful business career after graduating from the University of British Columbia. He founded his own investment firm, which was subsequently acquired by HSBC, where he served as chairman until his retirement.
Throughout his professional career, Mr. Wong has shown remarkable business acumen combined with a strong sense of social responsibility. He has made tremendous contributions to Vancouver across a wide spectrum of fields – finance, arts and culture, sustainability, community development, multiculturalism, academia and philanthropy.
Tremendous contributions touched the lives of so many citizens
He founded the Laurier Institution, a national non-profit organization dedicated to the study of Canadian diversity. He was instrumental in the creation of the internationally renowned Canadian International Dragon Boat Festival, and has been a key fundraiser and advisor for Science World, the Salvation Army, Red Cross, BC Cancer Agency, and YMCA.
Mr. Wong also served as Chancellor of Simon Fraser University and his significant donation helped relocate the SFU School for Contemporary Arts to the Woodward's redevelopment.
In recognition of his many achievements, Mr. Wong is also a recipient of the Order of Canada, the Order of British Columbia, and the City of Vancouver Civic Merit Award.