Oakridge Centre redevelopment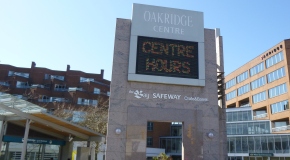 Ivanhoe Cambridge, the owner of Oakridge Centre, and Westbank Development have submitted a rezoning application for the centre, which is located at the southwest corner of Cambie Street and West 41st Avenue.
Oakridge Centre is currently home to shops, services, offices, and community and residential space. The application reflects a number of new and enhanced development proposals that have emerged since 2007 when City Council approved
the Oakridge Centre Policy Statement. 
Related projects and initiatives