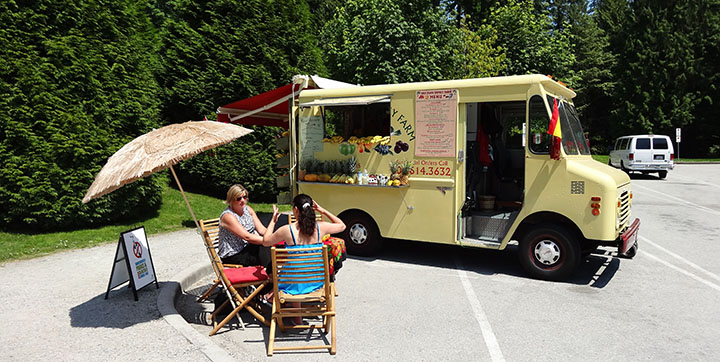 Stationary and mobile food vending in parks
The Vancouver Park Board runs the annual Summer Food Truck Program from May to October. Each spring we issue a request for proposals to sell food at select parks and beaches.
Learn about the vending sites and apply with your proposal. You need a vending permit to sell food at our parks and beaches.
Key dates
| Date | Event |
| --- | --- |
| March 4, 2022 | Issue request for proposals |
| April 15 at 4pm | Application deadline |
| April 29 | Successful applicants chosen and contacted |
| May 13 | Permits issued and payment due |
| May 20 to October 10 | Operational season |
Apply with your proposal
Prepare the required documents
Include a 400-word explanation of how you'll bring unique and complementary food offerings to the site

We seek creative, quality, and culturally-diverse menu offerings.

Provide your menu for customers, including the name, description, and selling price with taxes

Show which foods or products are:

Made from scratch
Local
Whole, unprocessed, or fresh
Organic
Fair trade or sustainably harvested

Provide proposed operating days and hours
Copy of your current Health Permit and any health inspection reports from the last year (if you already operate)
Copy of your current Food Safe Certificate Level 1

We prefer applications with Food Safe Certificate Level 2.

A Hazard Analysis Critical Control Point Plan (HACCP) for primary menu items
Documentation with details of your commissary facility with a confirmed or tentative lease agreement. The location must be approved by Vancouver Coastal Health as a food preparation facility.
Copy of your existing vending unit schematic, drawn to scale and showing equipment details.

Include interior drawings to scale, exterior dimensions of length and width, and a separate water system diagram.
Show how your unit is powered (there is no power available on-site).

Current photo of your vending unit
Waste management plan of how you'll collect, remove, and dispose of all garbage, recyclables, and compostable materials

Show how you'll use recyclable or compostable containers and utensils, and how you'll cut packaging.

Other sustainability or waste-management initiatives
Where possible indicate your primary local producers such as farms, manufacturers and bakeries
Details on the ownership of the company and qualifications of individuals operating the site
Other business details (where you currently operate, history, and relevant qualifications)
Plan to start operations by May 21, 2021
Mail the required documents
Mark Halyk
Food and Beverage Operations
Vancouver Park Board Administration Office
2099 Beach Avenue, Vancouver, BC V6G 1Z4

Please provide 1 copy of all documents.
View application procedures (1 MB)
Vending sites
Stanley Park Info Booth (truck or cart)
Queen Elizabeth Park adjacent to Bloedel Conservatory (truck or cart)
Kits Beach Sites (cart)
English Bay Beach Sites (cart)
Roaming Seawall/Stanley Park Vending (mobile bike or push cart)
2nd Beach Concession (complimentary food item truck, cart, or stand)
3rd Beach Concession (complimentary food item truck, cart, or stand)

Generators aren't allowed at beach sites.
View a map of the sites (1.5 MB)
We will consider other sites like Victory Square, Creekside in Olympic Village, David Lam Park, Spanish Banks, Vanier Park, Yaletown Park, and more. Let us know in your proposal and we'll check if it's possible.
If you are interested in a site that does not currently have a permitted vendor, contact mark.halyk@vancouver.ca with your proposal.
Key evaluation criteria
Due to the limited number of sites, we choose vendors based on the following criteria.
Suitability of the vending unit to the site (size restrictions)
Health permitting and food safety requirements
Proposed flat fee structure
Readiness to be operational by May 21
Uniqueness of your menu items and how they complement the existing park food offerings
Sustainability in your operation
Overall appeal and quality of your menu items
Health and nutritional aspect of your meal
Street and sidewalk vending
There are a number of opportunities for kiosks, carts, and other retail businesses on City sidewalks.