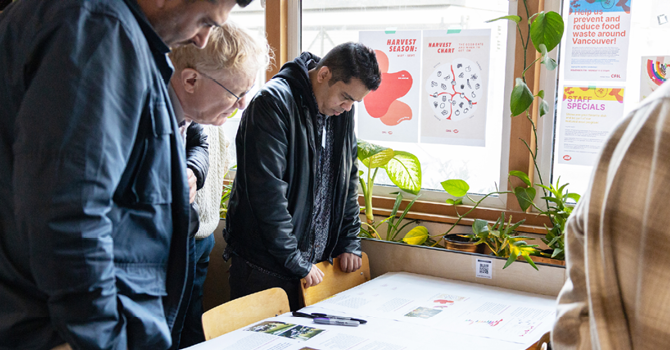 Circular Food Innovation Lab
Funding partners:
Acknowledgements:
VEC's Economic Transformation Lab
Emily Carr University
Participating food businesses.
For businesses, addressing wasted food is increasingly challenging due to the changing complexity of food systems. Our Zero Waste 2040 Strategic Plan emphasizes the importance of collaborating with the business community to reduce waste. We and our partners are helping businesses adopt new practices and ways of thinking to conserve food and adapt to changes.
Tackling food waste with Vancouver-based businesses
The Circular Food Innovation Lab (CFIL) engaged 18 Vancouver-based food supply chain businesses in a 10-month project from April 2022 to February 2023.
Working with the City of Vancouver, Vancouver Economic Commission (VEC), and designers from Emily Carr University, the CFIL explored solutions to prevent edible food from going to waste. In all, nine prototype concepts were tested resulting in a new toolbox for food businesses, the CFIL Prototype Collection.
Resources
Learn more, test some of our prototype solutions, or create your own using the resources listed below. Every business can benefit from exploring how to reduce waste in its operations.
Why reduce food waste?
A Canadian report released in 2019 estimated that 8.79 million tonnes of avoidable, unplanned food waste resulted in a loss of $39 billion dollars to the food industry.
In Vancouver, 25,000 tonnes of edible food was discarded by businesses in 2019, representing a loss of 37,000 meals.
The World Resources Institute also found that for every $1 invested in preventing and reducing wasted food, businesses saved $14.
Contact us