Print
Find your water or sewer connection
Generally we do not track where the water and sewer pipes go on your private property, but our records can help you estimate their location.
Find out where your front property line meets City property
Locate your water line and shut-off valve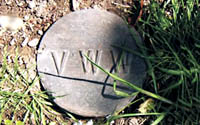 To access your water connection, look for a 10 cm-wide (4 inch) circular iron lid stamped with the letters VWW.
Stand on the City sidewalk and face your house. The lid will be within 1 metre (3 feet) from the edge of the sidewalk at the position measurements you get from 3-1-1.
This iron cap covers the access pipe to your water shut-off valve (also called a curb stop valve). The valve and your water service line are anywhere from 0.6 to 1.5 metres below street level.
The lid could be buried under grass or plants, so poke the ground with a screwdriver or garden trowel until you strike the lid.
Still can't find your water line?
Get a City crew to locate your water line (charges apply)
Locate your sewer line, clean out, and sump
To access your sewer line, look for a clean out or sump. A clean out is a pipe with a threaded steel cap or green, white, or black plastic cap that is located:
At the base of the main sewer drain pipe (or plumbing stack) inside or outside your home
At the property line, based on the position measurements you get from the City's Property Viewer

Search for the property and add the "Vancouver sewer service lines" layer
Click on the sewer lines once they appear
The City may not have records with this information for the property
A sump is a circular or square concrete chamber that collects rainwater from gutters and drain tiles before sending it to the sewer. Sumps can be are either in your basement, crawl space, or your yard.
The depth of sewer lines at the property line is typically 1.5 m (5 feet) below street level, although this varies by property.
Before you dig
Whether you are digging to find a leaking water pipe or plugged sewer pipe, planting a tree, or building a fence, it is important to know where all the pipes run.
Damaging underground pipes can be costly and dangerous. Before you start construction or renovations, locate your home's water, sewer, and other utility connections beneath your property.

WARNING: Digging around water and sewer lines may also impact underground gas lines, which can cause property damage and risk personal safety. Contact BC One Call to find out where gas lines and other utilities are located below ground.
BC One Call
Find your front property line
For the purpose of locating your water and sewer connection, you can estimate where your property meets City property in two ways.
Face your property from the street. If you have a fence or retaining wall, it should be at the property line. If your neighbours on the same side of the block have a fence or wall, your property line should line up with theirs.
View an aerial image of your property using the online map tool VanMap (instructions below).
If you will excavate near the property line, consult with a surveyor to confirm your property line location.
How to use VanMap
To leave this site and launch the VanMap application, select the Start VanMap button. VanMap may take a moment to load.
When you use VanMap, you agree to the Terms of Use.
Using Windows 8?
Compatibility view must be turned on to view the map.
Learn how to turn on compatibility view
VanMap instructions
Search for your property in the Address Search area.

In the Number field, enter your property's address number.
In the Street field, choose your street name from the list.
Press Go and VanMap will locate the address.

Get a closer look at your property with these Toolbox area items:

Zoom in

Clear selection (removes the green outline)

View aerial images of your property by checkmarking the Orthophotos 2011 layer.

Measure distances with the Measurement tool in the Toolbox area.