Turn your water service on and off
Who is responsible
The City owns the water service line from the water main to the curb stop or shut-off valve.
The property owner owns the water service from the curb stop or shut off valve into the home.
We do not make repairs on private property but will shut off the water service for the property owner.
You may need to shut off the water supply to your property to find the source of a water leak or to do construction or renovation work that affects plumbing systems.
To start and stop your water supply, you can:
Do it yourself with a City shut-off key (free)
Request a City crew (charges apply)
If a leak stops when the curb stop or shut off valve is turned off, the leak is deemed to be on the property owner's side of the curb stop or shut off valve. If this happens, repairing the leak is the property owner's responsibility.
Turn the water on or off yourself
Start by locating your water line and shut-off valve.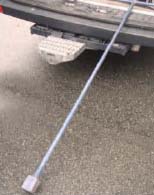 If your water line is 50 mm (2 inches) or smaller in diameter, you can borrow a water line shut-off key for free (also called a curb stop key). Use the shut-off key to temporarily stop and restart the water service to your property on your own.
Water lines 75 mm (3 inches) or greater in diameter need a City crew to turn on and off (see the previous heading).
Don't know the diameter? Phone 3-1-1.
How to borrow a shut-off key
To sign out a key, present your photo identification in person at a location below.
The location where you can borrow a water line shut-off key depends on the diameter of your water pipes.
Water line shut-off keys are generally loaned out for 48 hours only. If you are not able to return the key within 48 hours, contact the location from where you borrowed the key to ask for an extension.
Lost keys are subject to a replacement charge of $125 (tax not applicable).
Learn how to use the water shut-off key to stop and start your water service
Request a City crew
Have a City crew locate and turn your water supply off or on. Only property owners can request a service call, unless it's for an emergency.
After your call, a dispatcher will contact the property owner to schedule your service call.
When the crew arrives, make sure that someone who can approve the service call fee is on site.
Water service call fees and hours
Fees are based on the scheduled time of your service call. Tax is included.
Scheduled time of service call

Cost per service call
(per hour or portion thereof)

Regular service calls
Monday to Friday, 7am to 3:30pm
$113
Emergency service calls

Monday to Friday, 3:30pm to 7am
Weekends, anytime
Statutory holidays, anytime

$226
(includes follow-ups within 2 hours)
We cover the cost of repairing water service leaks on City property only. If you request a service call and the cause of the leak is on private property, we will bill the property owner for the fees above. We don't repair water leaks on private property.
How to pay
The City mails you an invoice for the crew appointment. If you have questions about the charges, phone the contact person listed on the invoice.
Send a cheque
City of Vancouver
Revenue Services
PO Box 7747
Vancouver, BC V6B 8R1
Pay in person with cash, debit, credit, or cheque
Revenue Services
Ground Floor, City Hall
453 West 12th Avenue (at Cambie Street)
Open Monday to Friday, except holidays, 8:30am to 5pm
Share water during repairs
Do you need a water supply while doing repairs on your water service?
The City loans jumper hoses that connect a neighbour's tap to your property, with your neighbour's permission.
Visit Manitoba Works Yard reception to borrow a hose. Reception is open weekdays, 7:00am to 3:30pm, excluding holidays.
You must return the hose within seven days. The fee to replace a lost hose is $100.00 (tax not applicable).