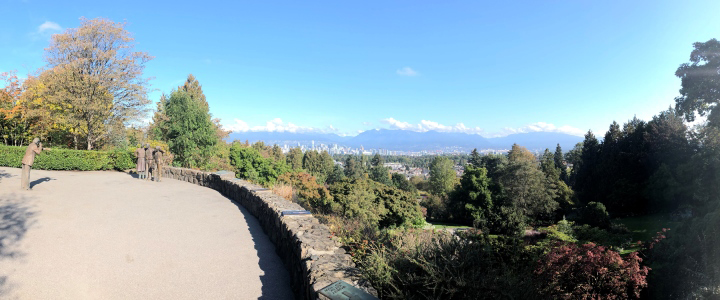 Queen Elizabeth Park view
At the geographic heart of Vancouver and the highest elevation, the Queen Elizabeth view cone is the most stunning and complex of the views.
Over time, distinct areas of preservation were identified and contained within View 3. Located next to the bronze sculpture photo session, this view encompasses the park, city, waterways, and the North Shore mountains.
Originally located closer to the Bloedel Conservatory, the view was significantly compromised by growing flora by 2008. Significant maintenance to renew the view and a shift towards the iconic sculpture allowed for those views to be reestablished in a more viable location.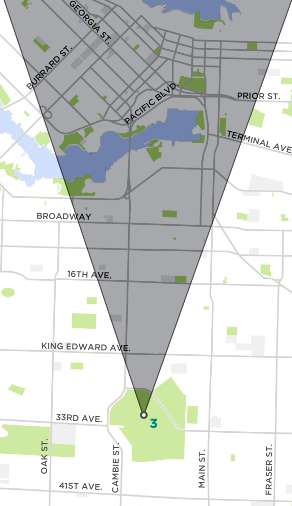 Protected view 3
Section 3.1 acknowledges the importance of our downtown skyline as a recognizable symbol of Vancouver. This view outlines the downtown skyline from the highest vantage in the city.
Sections 3.2.1 to 3.2.4 highlight mountain ranges from Mount Strachan to Mount Burwell. Additionally within 3.2.1 to 3.2.3, the higher buildings of the downtown rise to form the iconic dome shape of the downtown skyline.
Section 3.2.4a is located in the lower east part of this view and was created to preserve views to the waters of Burrard Inlet.

View cone 3.2.1, 3.2.2, 3.2.3, and 3.2.4, 2021.