Did we miss your garbage or green bin?
Some of the common reasons that items do not get picked up include:
They were not set out by 7:00am on the collection day
The collection crew could has not reached the address yet (crews work in some areas until 8:00pm)
A statutory holiday has changed the collection schedule
Unusual weather, construction, or other traffic delays, unexpected equipment breakdowns, or other operational issues
Help us collect your garbage and green bin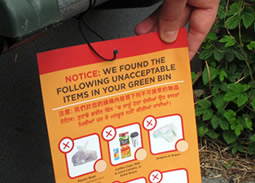 Keep unacceptable items out of your garbage and green bin. If collection crews could not pick up the contents of your bins, they will leave a tag on your bins explaining why.
What to do:
Read the tag carefully to find out why your items were not picked up
Correct the problem
Find ways to dispose of items the City does not pick up
Place accepted items out on your next scheduled garbage or recycling collection date
What the City picks up
Dispose of items the right way. Learn what goes in your garbage bin.
Food isn't garbage. Learn more about food scraps recycling and what other items go in your Green Bin.
Reporting a missed recycling collection
As of October 3, 2016 recycling collection services for single family homes or duplexes are provided by Smithrite Disposal Ltd. on behalf of Multi-Material BC.
The City no longer collects curbside recycling.
Contact Smithrite Disposal Ltd to report a missed recycling collection:
Smithrite Disposal Ltd
Phone: 604-282-7966
Email: recycle@smithrite.com
Items not collected curbside
Not everything can go into your collection bins. Find out how to dispose of items at one of our facilities.