Water main flushing program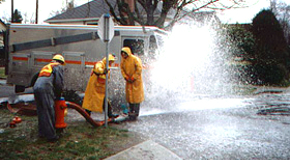 To maintain good water quality, the City of Vancouver flushes sediment and mineral build-up from the water main system.
We adjust the valves in the water system and open fire hydrants to allow large quantities of water to flow through the pipes.
How flushing affects your water

Your drinking water supply won't be affected as we work. However, you may temporarily have cloudy water, low water pressure, or no pressure.
The tap water is safe to drink. You may want to store some water in the fridge ahead of time.
To clear up the water, run your cold water tap for 10 to 20 minutes after our crews are done flushing the water main near you.
If you still have cloudy water or water pressure issues by 3:30pm, let us know so we can investigate.