Water treatment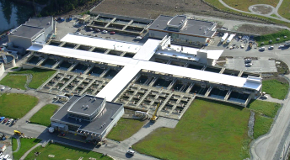 Vancouver's drinking water comes from the Capilano, Seymour, and Coquitlam reservoirs, which are managed by Metro Vancouver, and closed to public access to help prevent contamination.
Seymour-Capilano water filtration plant
Metro Vancouver has built a water filtration plant that will treat most of Vancouver's water supply. The filtration plant is located in the Lower Seymour Conservation Reserve, downstream of the Seymour Reservoir.
The filtration plant treats water from the Seymour and Capilano Reservoirs.
Learn more about the reservoirs and water treatment plant
How the filtration process works
The filtration process:
Reduces turbidity or cloudiness.
Removes Giardia and Cryptosporidium micro-organisms, which can cause illness.
Reduces the amount of chlorine required for disinfection.
With less chlorine required and fewer organics in the water, the level of disinfection by-products will also be reduced. For Vancouverites, the filtration process improves the taste, colour, and smell of the water.
About chlorine use
Metro Vancouver adds chlorine to drinking water to disinfect it and ensure there is no bacterial growth in the water supply.
We work with Metro Vancouver and Vancouver Coastal Health to monitor chlorine levels - current levels are acceptable.