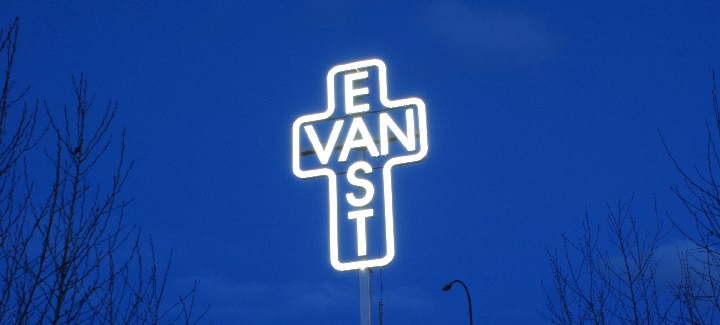 Artist-initiated commissions
Our public art program has been producing artist-initiated projects since 2009. Emerging and established artists are invited to expand their art practice into the public realm and propose new artworks that contemplate the city, its defining features, spaces, and neighbourhoods.
These opportunities provide chances to create public art outside the limits of a predetermined site, theme, or medium, and allow for the exploration of all forms of public art and all parts of the city.
2017 artist-initiated commissions
In May 2017, an open call was made for the City's third artist-initiated opportunity. A panel of curators and artists reviewed 189 applications and made a shortlist of artists who were then supported in developing their ideas into full proposals. From those proposals, the panel recommended commissioning six new projects.
Artists were selected based on their skills and potential, quality and innovation of the proposed work, relevance to Vancouver, and clarity of vision in relation to public space.
Anne Riley and Cease Wyss
Anne Riley and Cease Wyss propose to plant Indigenous Healing Gardens on the sites of several former gas stations.
The gardens will mitigate toxic soil conditions and work to re-Indigenize the city, as well as provide a place to gather, heal, and talk about common issues. The artists will work with youth and others to teach about indigenous healing plants and to tend the gardens.
Brady Cranfield
Brady Cranfield is developing "Weekend Chime," a contemporary take on the factory whistle, once a signal for workers to down tools and leave work.
Cranfield's work will use the technology used in church bell towers to sound a chime at 5pm every Friday, pitched to a familiar interval from "Working for the Weekend," the '80s classic by Vancouver-based band Loverboy.
In a time where the 40-hour work week's rhythms have been disrupted by the gig economy, the decline of union jobs, and round-the-clock connectedness, Cranfield's piece suggests, once a week, that maybe we should be doing something else with our time now.
Diyan Achjadi
Diyan Achjadi is interested in inserting a series of hand-pulled prints into the public realm where digital images thrive.
The prints will show simple objects, often seen on construction sites, and will be installed on temporary construction walls in the city. Contrasting the hand-pulled prints with the glossier advertising posters typically found on hoardings, Achjadi's series will be a monthly abstract dispatch published throughout the city.
She will also produce a book or portfolio of the series at the end of the project.
Learn more about Diyan Achjadi

Helen Reed and Hannah Jickling
For Big Rock Candy Mountain, their project initiated with Other Sights for Artists' Projects, Reed and Jickling have been collaboratively working with students at an elementary school in East Vancouver.
Their artist-initiated project will extend their exploration of aesthetics, economics and politics, age-specific taste and taboos - using the medium of candy. As part of this work, they have expanded the field of public art and the artist edition to include chocolate bars, and, for this new project, chewing gum.
Learn more about this project

Paul Wong
During a year-long residency at Dr. Sun Yat-Sen Chinese Classical Garden the artist will present a series of discreet works and interdisciplinary exhibitions exploring memory and loss for the Cantonese-speaking generations of Chinese-Canadians who settled and developed Vancouver's Chinatown.
The starting point for research for these artworks is over 700 letters hand-written in Chinese by 90 writers over decades to the artist's mother, Suk-Fong Wong, and an archive of 50 hours of video recorded with her between her diagnosis with dementia in 2011 and her passing in 2016.
Learn more about Paul Wong

Vanessa Kwan
Vanessa Kwan proposes a group of bronze sculptures in a public park- oversized depictions of overgrown houseplants: the Two-Headed Aloe Vera, the Top-Heavy Day Lily, and the Overgrown Succulent.
Kwan uses these plants as a metaphor for Vancouverites struggling to cope with inadequate living arrangements as the city grows increasingly unaffordable.
Set in a park surrounded by older apartment buildings, Kwan's sculptures will also support useful park structures such as benches, offering rest and comfort to city-dwellers seeking fresh air in small neighbourhood parks.
Learn more about Vanessa Kwan

Contact us