Print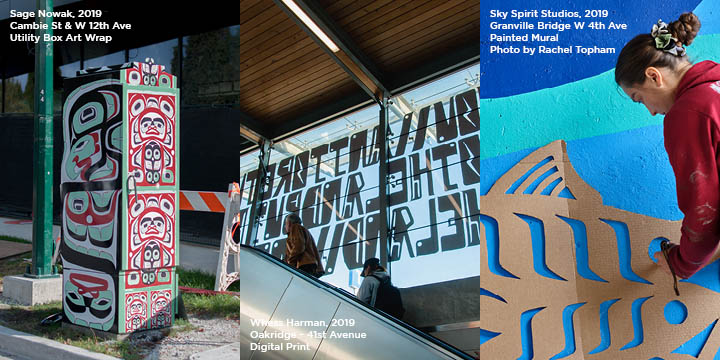 Indigenous artist call
We're inviting Indigenous artists to submit proposals for exterior murals and two-dimensional artwork as new opportunities for Indigenous recognition, celebration, and participation.
Public art is a beautiful way to bring exposure for contemporary artists, and can also serve as a connection for people in a city on the unceded and ancestral homelands of the Musqueam, Squamish, and Tsleil-Waututh First Nations.
We consider the maximum life of a mural to be approximately three years. Regular refreshing and repainting of new murals on existing sites can ensure that murals are in good condition and provide fresh and novel imagery.
Downtown Eastside Creative Crosswalks
In partnership with Aboriginal Land Trust Housing and Healing Centre Development, we're listing the W Hastings St and Columbia St crosswalks as a special opportunity to display artwork.
What's happening
Thank you to the many talented artists who applied.
Six artworks will be installed this fall.
Eligibility
To qualify, you must be an Indigenous artist or Indigenous/non-Indigenous collaborative artist team.
Artists should be knowledgeable about Indigenous design and contemporary practices and have an active relationship to this place. Only one application per artist will be accepted.
Musqueam, Squamish and Tsleil-Waututh artists are strongly encouraged to apply.
Artwork must be:
Unique, original work
Accessible to the public
Successfully completed by fall 2018
A range of mediums can be used, including brush or aerosol paint, graphic prints, or other two-dimensional approaches that can be semi-permanently affixed.
How to apply
Read the guidelines (692 KB)
Apply online

Deadline is Wednesday, April 18 at 4pm.
Related projects