New community garden at Creekside Community Recreation Centre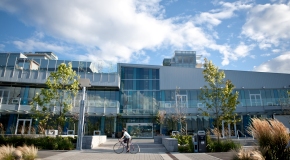 New garden approved
The World in a Garden has developed a proposal for a temporary community garden located near the east entrance of Creekside Community Recreation Centre.
The Vancouver Park Board approved the project on February 17, 2014, after community engagement process that sought input from residents.
The community garden will be built in spring 2014.
Garden features
The approved concept for the garden includes the following amenities:
Mobile garden beds that can be easily moved or dismantled
Accessible garden beds for people of all ages and abilities, with activities tied to community centre programs
Community gathering spaces with benches and seating
Integrated children's play area
Themed demonstration gardens with an education focus, including:

Indigenous food plants
Vertical growing wall and trellis
Rain garden
Culinary herb garden
Pollinator beds

Multilingual signs for greater accessibility and self-guided tours
Rain barrels for water conservation
Reused and repurposed materials from nearby businesses
Tool storage shed and compost
View garden location and concept plan 

 (6 MB)
How to get a garden plot
To get involved with the community garden project, please contact thegardenatcreekside@gmail.com.