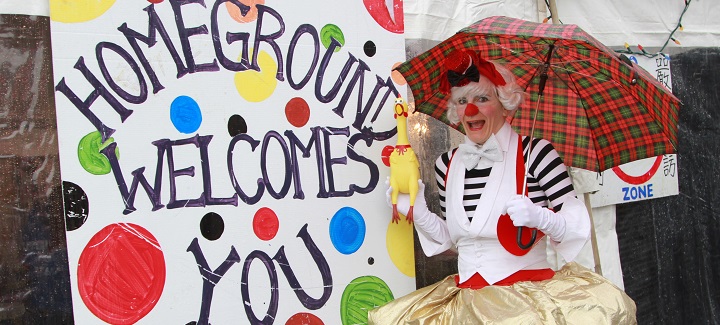 HomeGround Festival: February 7 – 9, 2018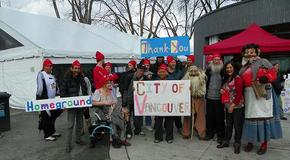 The 10th annual HomeGround festival, hosted by the Carnegie Community Centre, Oppenheimer Park, WePress, and Gallery Gachet, takes place from 11:00am to 8:00pm February 7 - 9, 2018.
Two large tents are set up in Oppenheimer Park, sheltering participants from the rain. During festival, residents enjoy the best food and entertainment in the Downtown Eastside.
This event provides more than food and entertainment. It celebrates local arts and connects community members to services and to one another
Food
Multiple, breakfast, lunch, and dinner seatings are served each day, with over 2,000 meals served throughout the festival. Guests are served by their volunteer friends and neighbours.
Vancouver Community College Culinary Arts have partnered with HomeGround to provide exceptional lunches and dinners. The students donate their own time to provide an outstanding service.
Entertainment
HomeGround showcases a mix of well–known local performers and Downtown Eastside musicians from a variety of cultural and musical genres.
Daytime activities include hands-on workshops, and concerts are held each evening. A rousing and energetic performance concludes each day, bringing audience members to their feet and eliciting many encore requests.
Community workshops
Designed with community input, additional community programming and workshops take place in the weeks and months leading up to HomeGround, with opportunities to showcase the results at the festival.
Volunteers
Each year, approximately 150 community members take on a variety of volunteer roles and express great satisfaction in providing this kind of high-quality event to their neighbours.
Donors
Festival donors include the Great Beginnings program, Oppenheimer Group, and Safeway.