Judy Graves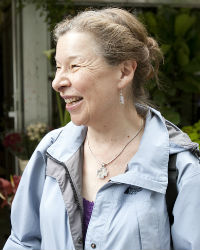 Judy Graves was awarded the Freedom of the City award on January 23, 2014.
An extraordinary force for positive change, a pioneer and leader working to end homelessness
Throughout her 33-year career with the City of Vancouver, Judy Graves cultivated caring connections with people living on the streets and in shelters, and served as a tireless advocate on behalf of those marginalized by homelessness. 
Graves approached her work in a deeply personal way, walking the streets of Vancouver in all kinds of weather and at all hours of the night, reaching out to people living on the streets and listening to their stories, while helping them navigate the delicate process of rebuilding their lives.
Tenacious, compassionate, and deeply faithful in humanity – a true inspiration
At City Hall, her passion for helping people affected by homelessness brought together diverse communities and organizations with a shared vision to create long-term solutions.
When Graves retired in the spring of 2013, Vancouver's streets had fewer people sleeping outside because of her unwavering belief that the number of homeless in our city could – and should – be zero.
Her work is respected by citizens across Canada. She has received numerous awards and accolades including an Honorary Doctorate in Law from the University of British Columbia in 2009 and an Honorary Doctorate of Divinity from the Vancouver School of Theology in 2013.
Graves continues to have a direct and lasting impact on the lives of homeless people in Vancouver, helping to restore hope to those without safe and secure housing.