Margaret Mitchell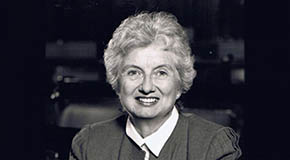 Margaret Anne Mitchell is a social activist, community developer, and a courageous feminist was awarded the Freedom of the City on October 18, 2016.
A graduate of the University of Toronto School of Social Work, Margaret worked for the International Red Cross for several years. In 1953 during the Korean War she served in Japan and Korea. In 1957 she worked with Hungarian refugees in Vienna, Austria. She married Australian Claude Mitchell in Vienna before eventually settling in Vancouver. After surviving cancer, Margaret pioneered community development, helping people to organize and improve life in our city's neighbourhoods.
Member of Parliament (MP) for Vancouver-East from 1979 to 1993
Margaret was variously the Critic for Immigration, Housing, Status of Women, Health and Welfare and for Multiculturalism and Citizenship. In the 1980s, she attended the United Nations "Decade of Women Conference" in Nairobi.
Early in her parliamentary career, Margaret voted against a pension increase for MPs and diverted her share of the increase to a special account to help the poorest in Vancouver's Downtown Eastside. With her support, the Margaret Mitchell Fund for Women continues to grow and assist organizations in East Vancouver to support programs and initiatives that promote economic and social justice for women.
A strong feminist, Mitchell was one of the first politicians to raise the issue of violence against women in the House of Commons. She is best remembered for one incident in which male Members of Parliament laughed when she demanded that the government take action to stop domestic violence. She also played a critical role in ensuring that women were recognized in the Charter of Rights and Freedoms in Section 28 which extended equality to women. Margaret's public stance against wife-beating and her vocal support for women's equality has inspired generations of women and men alike.
In 1984, she was the first MP to raise the issue of the Chinese head tax in the House of Commons. In all, Margaret spent 14 years in the House of Commons advocating for the people of Vancouver and across Canada in the areas of affordable housing, multiculturalism, and the rights of marginalized people.
Don't Rest in Peace, Organize
Her outstanding work as a community development worker has inspired many social workers in BC to follow her path. Her book Don't Rest in Peace, Organize has been a beacon for community mobilization and empowerment.
After retiring from public service, Margaret continued to serve BC in many volunteer capacities, including being the first Chair of the BC Advisory Council on Human Rights. In 2000, Mitchell was recognized as a Member of the Order of British Columbia.
Margaret led an exemplary and extraordinary life that benefited all Vancouverites and Canadians. By relentlessly pushing social issues onto the agenda in Parliament and locally, our communities are more diverse, inclusive, and equitable.