Vancouver Police Pipe Band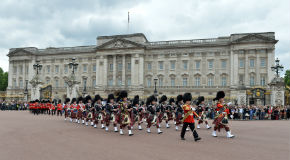 The Vancouver Police Pipe Band was awarded the Freedom of the City award on January 23, 2014.
Band forms in 1914 to celebrate opening of new police station
The Vancouver Police Pipe Band is a musical ensemble consisting of 35 pipers and drummers under the direction of Pipe Major Cal Davis. Membership in the band consists of current and retired members of the Vancouver Police Department as well as civilian volunteers.
The band's humble beginning occurred in 1914 at the opening of the police station on Cordova Street when a handful of pipers within the department organized themselves to play for the opening ceremonies. The chief constable at the time was so impressed that he authorized the formation of a departmental pipe band.
The pipe band celebrated its 100th anniversary in 2014.
Performing near and far to help recognize our city
The Vancouver Police Pipe Band has since performed on behalf of the city and has brought national and international recognition to Vancouver.
The band has appeared in numerous performances, charities, and civic events annually, and has travelled around the world on over 30 trips and tours representing Vancouver, British Columbia, and Canada. These trips are fully funded by the band and the majority of the funding is raised through corporate sponsorship.
Honoured with awards
In addition to international performances, the Vancouver Police Pipe Band has won awards and recognitions for excellence, including the Stewart Trophy six times over and the Best Pipe Band Trophy at the Scottish Festival.
The Vancouver Police Pipe Band was honoured with the Silver Star by the governor of Hawaii in November 1963 for their participation in a ceremony on the occasion of President John F. Kennedy's assassination. The band was in Honolulu, Hawaii for a beating retreat when the tragedy occurred and was called upon to participate in the ceremony. The Silver Star is the highest honour to be bestowed upon a civilian group.
Three albums
The Vancouver Pipe Band has also recorded three compilations including The Pipe Band (1978), Music in Motion (1983), and 90 Years on the Beat (2004) in celebration of the Vancouver Pipe Band's 90th Anniversary.