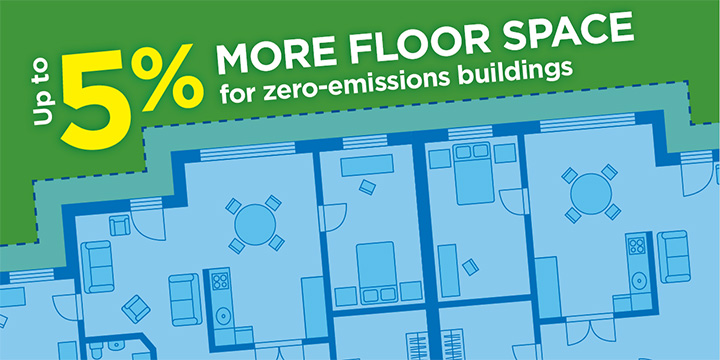 Zero emissions building tools
To achieve our greenhouse gas reduction goals, we're supporting early champions in the zero emissions building sector.
To support innovation in design and construction of multi-unit buildings that pursue zero emissions performance, the Zero Emissions Building (ZEB) tools are structured to help offset the modest additional construction costs as leading builders test barriers, stimulate ZEB building supply chains, and spark a new wave of design innovation.
The current ZEB tools are focused on multi-unit residential projects as these building permits make up the greatest proportion of new floor area in Vancouver.
Projects eligible for additional floor space
To qualify for up to a 5% floor space ratio (FSR) increase, projects must be a:
Certified Passive House or an International Living Future Institute Zero Energy standard project
Development Permit project in a District Schedule Zone
Project with 6 or more residential units
​Rezoning projects
These projects already undergo a negotiated process for additional density.
To support rezoning projects that pursue Passive House or Zero Energy standard, instead of up to a 5% FSR increase, construction cost premiums for zero-emissions buildings will be incorporated into the rezoning evaluation process.
The Director of Planning also has discretion to relax regulations for rezoning projects to enable zero-emissions buildings.
Zero-Emission multi-unit buildings in Vancouver
By City of Vancouver
Recently completed and under-construction projects show that it is possible to build high-rise and low-rise residential buildings to a zero-emissions performance level.
The Heights

By City of Vancouver

A six-storey, 85-unit rental building in East Vancouver, that is pursuing Passive House certification.

Spire Landing

By City of Vancouver

The six-story project will offer 95 rental homes in South Vancouver. If successfully certified, it will be the largest Passive House building in Vancouver and one of the largest in the country.

855 Kingsway

By City of Vancouver

The project at 855 Kingsway has an approved development permit for a 50 unit Passive House building.

The Brixton

By City of Vancouver

The Brixton is a multi-unit rental building that achieved zero-emissions by installing high-efficiency water heaters in each suite instead of using a standard centralized gas boiler.
Examples of a 5% floor space increase
This table illustrates examples of additional floor area that a builder or developer may add to a proposed multi-unit project by designing and building it to a zero-emissions building performance level.
District
Lot size
Conditional FSR
ZEB tools 5% FSR
Additional floor area
RM-1
9,600 ft²

1.2 FSR

11,520 ft²

1.26 FSR

12,096 ft²

576 ft²
RM-5
12,000 ft²

2.2 FSR

26,400 ft²

2.31 FSR

27,720 ft²

1,320 ft²
C-2
14,400 ft²

2.5 FSR

36,000 ​ft²

2.63 FSR

37,872 ft²

1,872 ft²
C-5A
18,000 ft²

7.0 FSR

126,000 ft²

7.35 FSR

132,300 ft²

6,300 ft²

These examples assume the proponent achieves the maximum 5% additional floor area in each case. This is at the final discretion of the Director of Planning. All City policies apply to additional floor area.
Advancing the Green Economy
We predict that the market for high-performance buildings will continue to grow.
As the Zero Emissions Building Plan is phased in between now and 2025, the demand for green building design expertise, construction practices, and building materials will become standard for all new construction.
Advances in green building practices will support the provincial BC Energy Step Code implementation between now and 2030.
This is supported by the current trends:
Nearly 92,000 people already work in green architecture and construction services in British Columbia, according to a recent study
The World Green Building Council estimated that the global green-building market doubles every three years
The value of the global green building-materials market could reach $234 billion by 2019, according to one recent market forecast
Find resources and tools to help you construct a Zero Emissions Building

Contact us