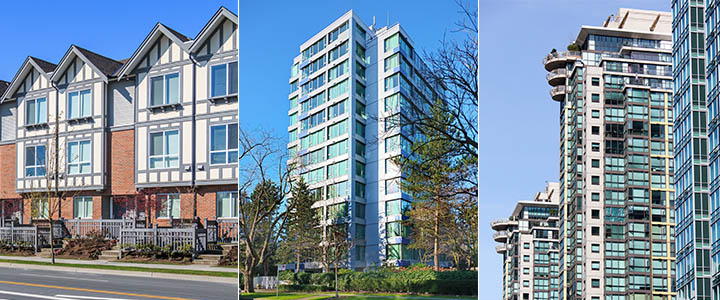 Energy resources and programs for existing multi-family buildings
By 2030, we're aiming to cut our carbon pollution from buildings in half compared to 2007 levels.
Do you live in, manage, or own a unit in a multi-family building? Below is a list of energy resources and programs available for residents or owners of a condo, strata unit, townhouse, rental apartment, non-profit, or co-op building.
With increasing demand for electrification in multi-family buildings, resources are becoming more readily available.
What's happening

The Rental Apartment Retrofit Accelerator program

We've launched the Rental Apartment Retrofit Accelerator (RARA) pilot program to future-proof existing rental buildings, aiming to:
Make buildings more resilient to the impacts of climate change
Improve energy efficiency
Increasing indoor comfort
Decrease emissions with minimal impacts to tenants
Provide capital incentives to reduce emissions and increase resilience for up to 30 non-profit buildings in Vancouver
Learn more about RARA benefits
Applications are now open
Building owners with market rental apartments located in Vancouver are eligible to apply to the pilot program.
Review program details, eligibility, and apply
Read the Council report: Non-Market Housing Climate Resilient Retrofit Grant, May 17, 2022 (73 KB)
Reducing emissions in existing buildings

The Building 2 Electrification Coalition (B2E) offers resources, case studies, and local events for low-carbon building retrofits.
Learn about the core actions we are taking to reduce carbon pollution from existing large commercial and multi-family buildings.