Print

Electric Vehicles (EVs)
By 2040, all new cars and trucks will be zero emissions in BC.
To support the shift to renewably powered transportation, we're improving and expanding our public charging network, implementing policy to support home charging, increasing the number of EVs in our fleet, and working with business and other levels of government to make switching to an EV as easy as possible.
Electric vehicle sales have grown
year-over-year since 2011
Supporting our goals
How we get around the city will play an important role in how we fight climate change and reduce carbon pollution, we know that we need active transportation, improved transit, and zero emissions vehicles to achieve this.
This aligns with one of our Climate Emergency goals: By 2030, 50% of the kilometers driven on Vancouver's roads will be by zero emissions vehicles.
Tackling emissions related to transportation, which make up 40% of the city's total carbon pollution, is also part of our commitment to derive 100% of our energy from renewable sources before 2050.
charging stations in Vancouver
Where to charge electric vehicles
We currently manage 75 "Level 2" public charging points, 34 of which are on City properties, and two DC Fast Chargers, located next to Highway 1 at Empire Fields and at Fraser St and 44th Ave.
It's estimated that another 175 charging points are available to EV drivers in Vancouver that are managed by parking garages, hotels, shopping malls, and other services.
By 2021, a DC Fast Charging hub will be located within a 10-minute drive of anywhere in Vancouver.
Find an EV charging station near you or your destination with online maps and mobile apps such as Plugshare or Chargehub .
Map legend
Level 2 Charging Stations (7kW): Blue
DC Fast Charging Stations: Pink
Dedicated parking for zero emissions vehicles: Orange
ZEV decal benefits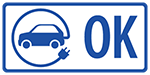 The Province of BC administers a decal program for zero emission vehicles. Electric vehicles displaying an official decal are provided with benefits province-wide, with additional benefits offered in Vancouver.
Since 2014, more than 25,000 home charging circuits have been installed across Vancouver.

More home charging
As of January 1, 2019, all new development permit applications for multi-family buildings must include EV charging infrastructure in 100% of parking stalls, with the exception of visitor stalls.
In order to minimize the impact on builders and the utility grid, our requirements allow the use of EV Energy Management Systems (EV EMS). Because most personal vehicles are parked for 8 to 10 hours per day at home, an EV EMS allows multiple vehicles to share a circuit. This reduces construction costs and utility costs.
An EV EMS must ensure that every EV charging outlet receive at least 12kWh over an 8 hour period. This means that, even if a vehicle is plugged into every single outlet at once, all EVs will receive enough energy for the next day.
Vancouver is one of several BC municipalities that now have a "100% rule" for new multi-family buildings.
Why electric vehicles?
More electric vehicles
EV sales in Vancouver are growing steadily, with about 70% growth year-over-year since 2011. There are currently over 30,000 EVs registered in BC. By 2050, we expect about 300,000 EVs to be registered in the city.
The Climate Emergency: Big move 3 and accelerated actions
Earlier in 2019, Vancouver declared a Climate Emergency. Accelerated actions to support this goal will focus on:
Accelerating the expansion of the public EV charging network
Adding incentives to accelerate the transition to EVs
Related initiatives
The Curbside Electric Vehicle Pilot program supports the growth of EVs by increasing access to your home and public charging.
Vancouver is joining hundreds of cities around the world in declaring a climate emergency and committing to reduce emissions locally.
The City of Vancouver has committed to becoming a renewable city with 100% of our energy coming from renewable resources by 2050.
Condos, townhomes, and apartments
Visit evcondo.ca for information on setting up EV charging in stratified buildings.
You can also search their registry to find an EV-friendly strata building.
Contact us