Electric vehicle charging station and cellular poles in English Bay parks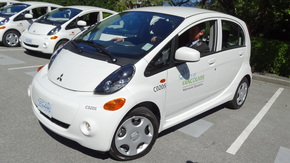 The Vancouver Board of Parks and Recreation approved the installation of integrated electric vehicle (EV) charging stations and cellular units in parking lots at three English Bay park locations along Beach Avenue: Broughton, Bute, and Bidwell streets.
This unique project, a partnership between the City of Vancouver and TELUS, provides electric vehicle charging stations at central locations and increases cellular network capacity in the West End. This initiative supports the City of Vancouver, Park Board, and TELUS's long-standing commitments to sustainability and innovative business practices.