Traffic cameras, data, and signal reports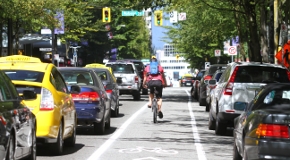 Collecting traffic data helps us make smart traffic management decisions.
Traffic data informs everything from city-wide transportation plans to neighbourhood traffic calming measures.
We share our traffic data with the public so that you can be informed of what is happening in the city, and provide your input.
Reporting safety and red light camera issues
Our traffic cameras are only used to monitor traffic conditions.
To report issues about malfunctioning intersection safety cameras or red light cameras, contact ICBC at 604-661-2800.