Print
Why we collect traffic count data
The City of Vancouver determines how much traffic there is using hose and manual traffic counts.
Traffic count data helps the City make traffic management decisions, such as when to implement:
Traffic-calming measures
Walking and cycling improvements
Traffic and parking regulations
Bus stop locations
Hose counts
The City counts traffic by placing rubber hoses on a road or bike path. As vehicles and bicycles travel in either direction over the tubes, the counter records the air pulses. Traffic counting is done mid-block between two intersections to give a total for each direction.
Manual counts
City staff conduct manual counts using electronic count boards at signalled intersections, typically during the morning and afternoon rush hours. They collect information for all traffic – vehicular, pedestrian, and cyclist – at the intersection, including left and right turns, and through-movements in every lane.
Get traffic count data for a previous year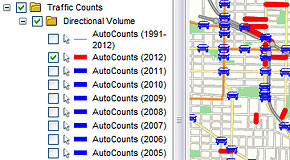 See where we collect traffic count data using VanMap.
On the map, automatic mid-block traffic counts for the most recently recorded year are marked in red. Previous years are in blue.
To access traffic count data for a previous year:
Click the plus sign to open the "Traffic & Transportation" folder, "Traffic counts" folder, and then the "Directional Volume" folder.
Select the year in VanMap as shown in the image.
Manual traffic counts are marked with a car icon. Double click an icon to access the traffic count report.