How we collect bike volumes on designated bikeways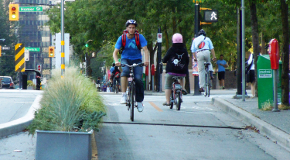 We began installing automated bike counters as early as 2009 and today we report out on a quarterly basis the daily volumes for a number of bike lanes around the city.
Data description
Beginning in August 2018, bike volume data is presented as daily two-way totals. View the bike volume data (229 KB)
The automated counters provide continuous, hourly bike volumes for each direction of the bike lane. The hourly volumes in each direction are totaled to provide a daily volume.
Historic data from before August 2018 is reported out monthly. The data includes monthly two-way totals rounded to the nearest thousand, and shows mid-week averages on 10 protected bike routes. (60 KB)
Data accuracy
The data provided by the City is an approximate volume of cyclists at each location.
Missing data from the automated counters occur within the raw data set due to vandalism or equipment failure.
For current data (August 2018 to present), a constant value site correction factor is applied to account for consistent counter errors relating to things like cyclist density, material of the bike wheels and frame, cyclist behavior, and sensor sensitivity.
For the historic data (before August 2018), methods including regression, ratios between in and outbound volumes, or averaging have been used on raw data to calculate a monthly total volume. The magnitude of missing data is approximately 5% (approximately 240 partial or full days missing out of a total 5,000 count days). Site correction factors were not applied to this data.

The material provided is not an official statement of City policy, practice, services, or procedure, and should not be construed as such. It's intended only to provide immediate and convenient access to information. While efforts are made to provide accuracy and currency, the City cannot and does not guarantee that the information is always accurate or current. The City does not make any representations as to the quality, content, accuracy, or completeness of the bike counter information.