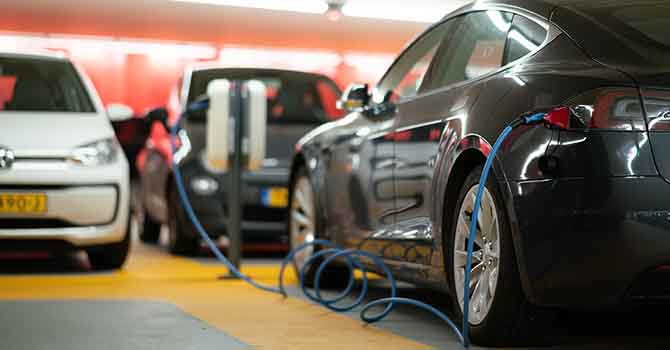 Electric vehicle charging at gas stations and parking lots
To support more electric vehicle (EV) charging across Vancouver, we're updating business licences for gas stations and commercial parking lots to encourage them to provide charging for EVs.
Changes effective January 2025
Annual business licence fees will be $10,000 for

Gas stations
Commercial parking lots with 60 or more stalls

Gas stations and commercial parking lots that have installed a minimum number of EV chargers by December 2024 will have a significantly lower business licence fee, similar to what they pay today
The minimum charging specifications are:

Gas stations: 50 kW (equivalent to a lower powered DC Fast Charger)
Commercial parking lots: 26.6 kW (equivalent to four level 2 chargers)
Initiate the process to purchase and install EV charging early
Due to supply chain issues, it may take longer to purchase and install EV chargers. If EV charging infrastructure is installed after business licence renewal in fall 2024, a business may be subject to the higher business licence fee starting in 2025. Details on how to update your business licence will be available on this webpage and shared with businesses next year.
Climate emergency
This action is part of our Climate Emergency Action Plan, which aims to cut Vancouver's carbon pollution in half by 2030. Gas and diesel from vehicles accounts for almost 40% of the carbon pollution produced in Vancouver.
One focus area of our climate plan is to transition vehicles in Vancouver to zero emissions vehicles. A lack of access to charging is often cited as a barrier that prevents residents from switching to an EV. Our climate plan includes actions to increase public, home, and workplace charging. This policy will increase charging on private land, which is expected to be one important part of our growing network.
Subscribe to the Greenest City monthly newsletter or follow our social media channels for updates.
Documents and resources
Contact us