Get help installing electric vehicle charging stations in your multi-unit residential building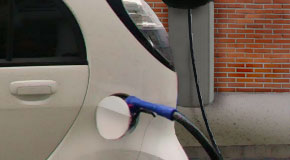 We are making efforts to rely less on fossil fuels, bringing us one step closer to becoming the Greenest City in the World by 2020.
If you own or manage a multi-unit residential building, you can play a part in reaching this goal, by installing vehicle charging equipment in your buildings.
We can help you get started, in our "Charge and Go" field trial.
Join the Charge and Go field trial, and get installation support
In partnership with the Federation of Canadian Municipalities, the Province of BC, and BC Hydro, we are seeking multi-unit residential buildings to participate in a field trial for electric vehicle charging infrastructure.
To encourage early adopters of charging stations, we will support the installation of charging equipment in four qualifying buildings.

 Note: The deadline to apply for the trial has passed. Thank you for your interest.