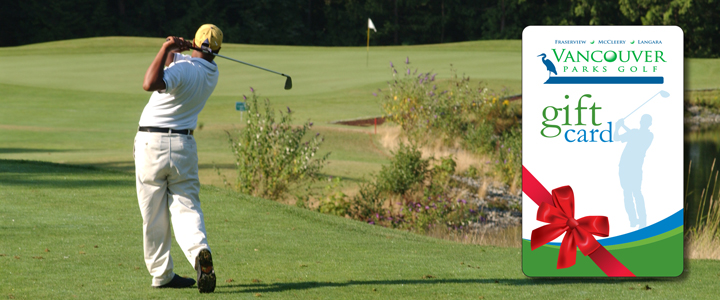 Vancouver Parks Golf gift cards
Vancouver Parks Golf gift cards may be loaded with any value between $25 and $500. Treat them as cash for use towards select purchases at any of our championship golf courses: Fraserview, Langara, and McCleery. You can split any purchases between a gift card, cash, credit, and debit.
You can purchase gift cards at your favourite Vancouver championship golf course.
Use of our gift cards constitutes acceptance of all terms and conditions listed below. These terms and conditions are subject to change without notice.
Vancouver Parks Golf gift cards:
Don't expire
Won't be replaced it lost or stolen
Aren't redeemable for cash
Can only be purchased with cash, credit, or debit
Are only valid for in-person purchases
May only be refunded if they are unused with the original purchase receipt (no card transactions have taken place and the card has the full balance as per the receipt purchase amount)

If gift cards are purchased during a promotional period, all bonus coupons received must also be returned at the time of the gift card refund.