Print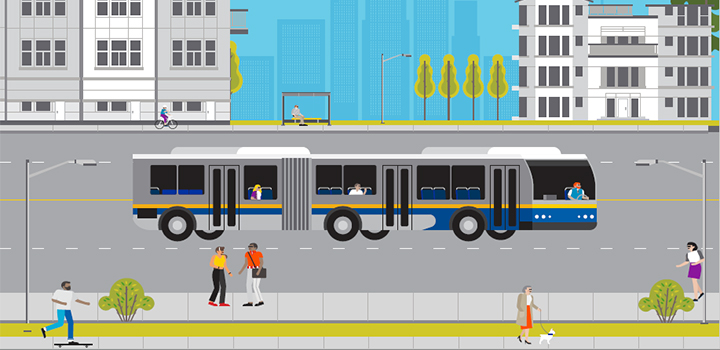 41st Avenue B-Line
Benefits of bus priority lanes
A transit lane has the potential to carry significantly more people than a regular travel lane
Separating buses helps improve the overall flow of traffic and reduces delays from parallel parking activities and pulling in and out of traffic to pick up passengers
Support for businesses and residents
The City of Vancouver and Translink are committed to helping residents and businesses through this change.
If you have questions related to street parking or loading zones, contact the Parking Information Officer at 604-829-9221.
For other inquiries call 3-1-1 or email us at 41st-bline@vancouver.ca. We have limited availability but will answer questions in person for those that are not able to contact us by email or phone.
Please go to your local area for more details.
Improvements
The new B-Line will replace the current 43 Express Bus Route and feature the following improvements:
| Improvements | New B-Line | Current 43 Express Bus |
| --- | --- | --- |
| Higher frequency of service | Every 3-6 minutes at peak times* and 8-15 minutes at non-peak times | Every 7-8 minutes at peak times* and 10-15 minutes at non-peak times |
| Longer operating hours | 6am to 1am, every day of the week | 6am to 10pm, Monday to Friday |
| New buses | All buses on the route will be new, longer diesel-electric hydrid buses with all-door boarding and air conditioning | Some buses are regular length while others are longer; all are disel-powered and non have air conditioning |
| More bus stop amenities | Real-time bus information displays, added benches | No real-time bus information displays, limited benches |

Peak times are 6am to 9am and 3pm to 6pm. Non-peak hours are all hours outside these times.
What TransLink heard in the first phase of consultation
Public support from current transit riders for frequency, routing, and general stop amenities for the 41st Avenue B-Line proposal was overwhelmingly positive:
Support from public transit users was strong across all proposed transit priority measures
The majority of respondents supported the proposed 41st Ave B-Line stop locations, changes to local routes, and transit priority measures
A large majority of respondents supported changes to streets and intersections to support speed and reliability of the new 41st Ave B-Line
90% of respondents supported all four proposed B-Lines.
Learn more about TransLink's consultation and how data was collected: B-Line Program

Contact the project team
Get updates