Pearson Dogwood Policy Statement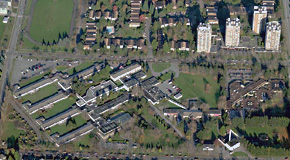 To prepare for redevelopment of the Pearson Dogwood lands, City Council directed our planning team to create a policy statement in collaboration with Vancouver Coastal Health and the surrounding community.
This planning program was developed at the request of the site owner Vancouver Coastal Health.
The 10-hectare (25.4 acre) site is located between West 57th and 59th avenues and Cambie and Heather streets.
The policy statement set principles and objectives for:
Land use
Density
Building forms and heights
Parks and open spaces
Community amenities
Transportation
Sustainability
City Council approved the policy statement in February 2014.
Project status: complete, rezoning application in review
We have received a rezoning application for this site to create a mixed-use community based on the policy statement.
Learn more about the rezoning application and comment online
Related projects and initiatives