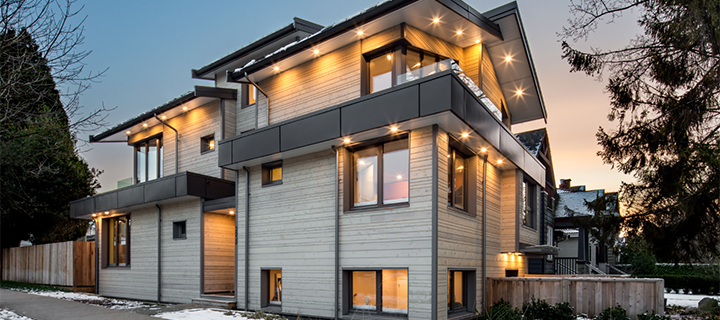 Build a Passive House
How to get Passive House certification
Passive House certification is a quality assurance process that determines whether a project meets all of the requirements of the Passive House standard.
It confirms that the building has been designed to achieve high levels of occupant comfort and energy performance.
The primary criteria for achieving Passive House certification:
Space Heat Demand: Maximum 15 kWh/m²a or heating load maximum 10 W/m²
Air Tightness: Maximum 0.6 ACH @ 50 Pa (pressurizing and depressurizing)
Total Primary Energy Renewable (PER): Maximum 60 kWh/m²a
Learn more about the Passive House standard and certification process .
Passive House in Rezoning
All rezoning applications submitted after May 1, 2017, will be required to meet near zero or low emissions buildings. This requirement can be met by constructing to the Passive House standard.
Read more details in the Green Buildings Policy for Rezoning - Process and Requirements Bulletin . (319 KB)
Passive House in Zoning
We are continually working to remove barriers within the regulatory framework to facilitate Certified Passive House designs.
Applicants are required to meet the Passive House standard and successfully certify the project as a Certified Passive House in order to be eligible for related relaxations.
Benefits of a Passive House
A Passive House produces very low operating emissions relative to standard buildings and creates:
High air quality levels
Even temperature distribution
Low noise levels
Reduced heating and cooling costs
Passive Design Toolkit
This toolkit outlines passive design practices fundamental to achieving the Passive House standard criteria in Vancouver.
Online resources, training, and case studies
Learn more