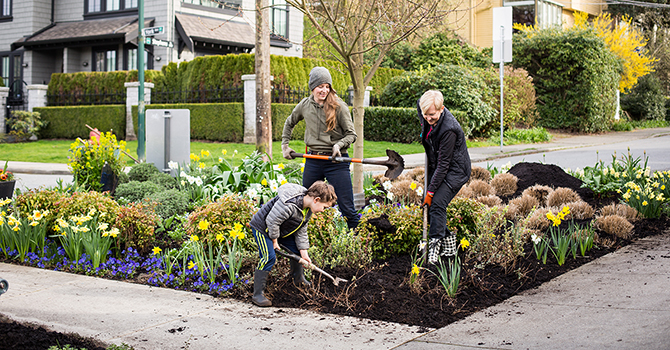 The Green Streets Program: Volunteer gardening on traffic calming spaces
The Green Streets program began as a pilot project with 15 volunteer gardeners. Since then, Green Streets has bloomed into a program with hundreds of gardeners caring for planted traffic circles and street corners across Vancouver.
Green Streets gardens not only enhance public space, they help manage rainwater, provide habitat for wildlife, and add a touch more green space to the communities where we live, work, and play.
Green Street gardeners help street gardens around the city grow to their full potential by providing year-round care including weeding, pruning, and other maintenance.
Contact Green Streets
Location
Green Streets Program
Street Activities
Engineering Services
320-507 West Broadway
Vancouver, BC V5Z 0B4
Street gardens looking for volunteers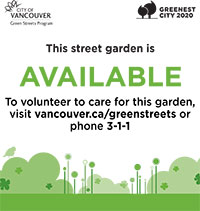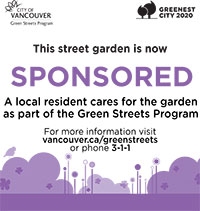 If you're interested in tending a street garden, look for a sign in the garden. The sign will indicate whether the garden is available to tend, or if it's already being cared for.
Benefits of volunteer gardening
Volunteer gardeners gain a greater sense of community, make new friends, and experience the joy of seeing a job well done.
In addition to sharing knowledge with one another, volunteer gardeners with the Green Streets program receive:
Free compost in spring and fall
Advance notification of any plant giveaways
A subscription to the Green Streets newsletter
An invitation to the autumn Green Streets Garden Party, where the City celebrates the achievements of Green Streets volunteers
Access to the expertise of mentor gardeners with the Master Gardeners Association of BC
Planting a Green Streets garden
Most Green Streets gardens come planted by the City with drought-tolerant and some evergreen plants for year-round interest. Garden design support is also available to Green Streets gardeners.
Report vegetation issues
Let us know about plants that need maintenance on city streets, including traffic circles, medians, islands, and corner bulges.
Help to create and maintain green spaces in Vancouver
Traffic calming in Vancouver
How we use traffic calming measures to keep the roads safe and tips for safe driving.